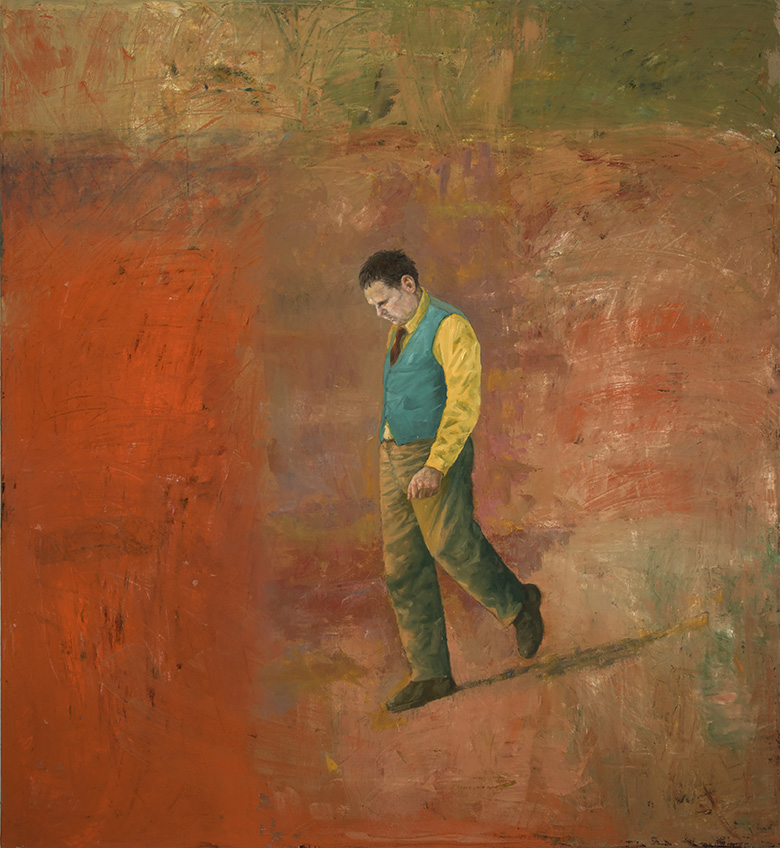 GRAEME DRENDEL: THE MESSENGERS
14 MAR 2020 - OCT 2020
Due to the COVID-19 pandemic and potential impact on the safety of our students, staff and wider community, in line with the latest advice from Government authorities, the Post Office Gallery exhibition by Graeme Drendel had to prematurely close and the Gallery program temporarily halted. We apologise for the inconvenience and disappointment caused to all our visitors.
Watch the video on Graeme Drendel talking about his work in his Melbourne studio >
In Graeme Drendel's first solo exhibition in Ballarat, Victoria, the renowned Australian artist presents his intriguing vignettes for which the artist is well known and celebrated – his subjects and characters on the one hand puzzling and perplexing and on the other mystical and surreal.
Born in the Mallee, Victoria, Drendel has gained recognition for his highly accomplished hand in drawing and painting, and for his particularly intelligent observation and portrayal of life and the human condition.
Following a successful solo exhibition at Australian Galleries, Melbourne. Card Carriers in 2019, Drendel's new series is painted in his characteristic enigmatic style, revealing situations in which figures are removed from the larger group, isolated in the landscape, acting as if they're individually negotiating their actions and demonstrating what we as humans do. Alone or in pairs, Drendel's characters appear preoccupied, stilled within the vast open landscape surrounded by the darkness and emptiness beyond.
Here, within these richly painted scenes Graeme Drendel invites the viewer to contemplate meaning, questioning and at the same time revealing the idiosyncrasies of our individual and shared experience, as well as the often unspoken oddness and humour of everyday life.
Graeme Drendel spent two years of his undergraduate studies at Federation University (formerly Ballarat Teachers College and Ballarat School of Mines). He has exhibited broadly nationally with recent solo exhibitions Card Carriers, Australian Galleries, Melbourne, 2019; Confessions, Tweed Regional Gallery, Murwillumbah, NSW, 2018; On uneven ground, paintings and works on paper, Beaver Galleries, Canberra, ACT, 2018; Isolation and Inclusion, Brimbank Community and Civic Centre, Melbourne, VIC, 2018; A Survey 1984 – 2017, Australian Galleries, Melbourne; Silos + Silence, Mildura Arts Centre Gallery, Mildura, VIC, 2015; Paintings, watercolours and etchings 2007 – 2015, Australian Galleries, Roylston Street, Sydney, NSW, 2015.
Recent group exhibitions include; Australian Galleries: The Purves Family Business. The First Four Decades, Australian Galleries, Melbourne, VIC, 2019; Graeme Drendel and Belynda Henry, 3:33 Art Projects, Clayton Utz, Melbourne, VIC, 2019; papermade, Australian Galleries, Melbourne, VIC, 2019; Imprint: A Survey of the Print Council of Australia, Parliament House Gallery, Parliament House of Australia, Canberra, ACT, 2019; Archibald Prize, Art Gallery of New South Wales, Sydney, NSW, 2018; Paul Guest Art Prize, Bendigo Art Gallery, Bendigo, VIC, 2018; Doug Moran National Portrait Prize, Juniper Hall, Sydney, NSW, 2017.
Collections include; Albury Regional Gallery, Albury, NSW; Artbank, Sydney; Australian Print Workshop, Melbourne, VIC; Art Gallery of Ballarat, Ballarat, VIC; BHP Billiton; Bundanon Trust, Bundanon, NSW; Camberwell Grammar School, Melbourne, VIC; Canson Australia Pty Ltd, Melbourne, VIC; Castlemaine Art Gallery, Castlemaine, VIC.
This exhibition was opened on Sat 14 Mar @ 6:30pm, with opening remarks by Geoff Wallis, former Federation University lecturer.
Graeme Drendel is represented by Australian Galleries, Melbourne I Sydney.
Image: Graeme Drendel, Trance, 2019, oil on canvas H197 x W183 cm. Courtesy the artist and Australian Galleries, Melbourne