JOSEPH BEUYS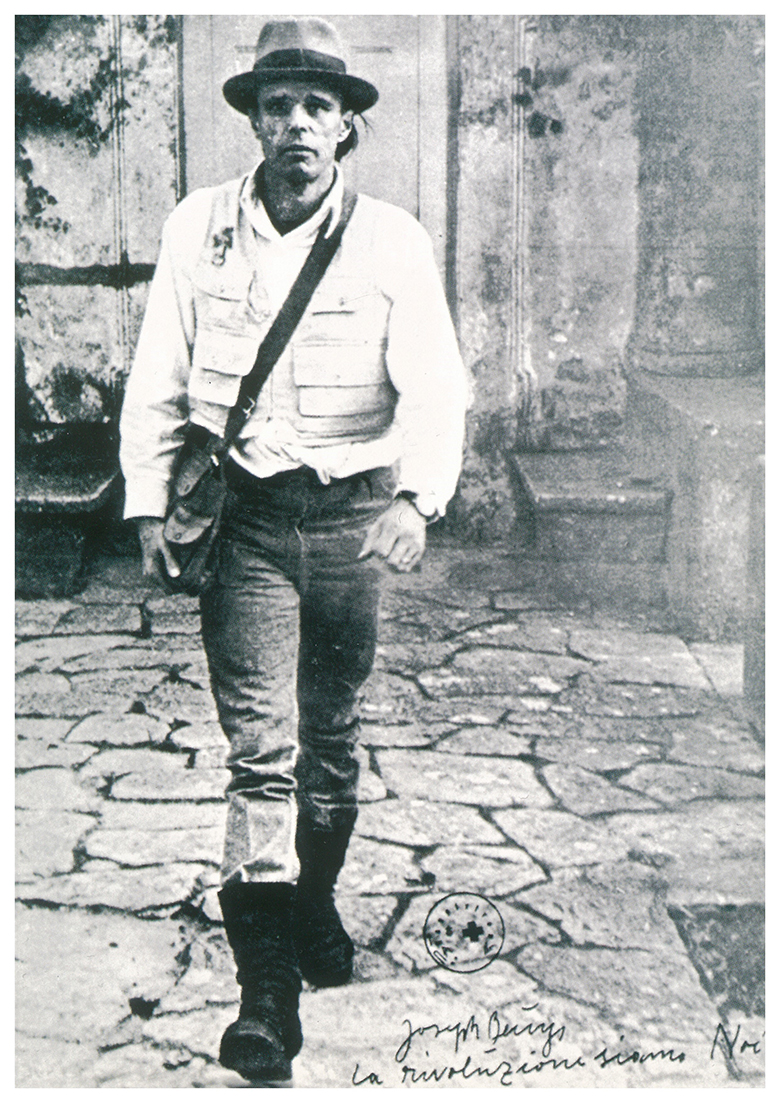 JOSEPH BEUYS: THE REVOLUTION IS US
FRI 25 OCT to SAT 16 NOV 2019
Please join us at the Post Office Gallery for the exhibition opening of 'JOSEPH BEUYS: THE REVOLUTION IS US', with speakers; Assoc. Prof. Rick Chew, Director, Arts Academy, Federation University and Dr Lynne Reeder, Adjunct Research Fellow, Federation University and Steering Group, Compassionate Ballarat, and Ian George, Joseph Beuys Café, on Fri 25 Oct 2019 @ 6.30pm. All welcome.
'The Revolution is Us' (La rivoluzione siamo Noi) showcases select films, works on paper and sculptures by internationally acclaimed German artist Joseph Beuys (1921 – 1986), one of the most influential Conceptual and performance artists of the second half of the 20th century.
Known for his highly original and controversial ideas, themes and practices, including large editions of the same or similar works in "Multiples", Beuys attempted to make art more democratic, collapsing the space between life and art through public discourse, performance and actions, believing "…everyone is an artist".
A sculptor, performance artist, printmaker, political activist, and teacher, Beuys was also an important contributor to the avant-garde FLUXUS movement alongside George Maciunas, John Cage, Alison Knowles, Nam June Paik and Yoko Ono, among others. Beuys championed the possibilities of artistic creation to enact positive social and political change and activate the intellectual and creative capacity in all of us. Through his notion of "social sculpture", Beuys believed in the power of art to be able to activate and transform society. His "Multiples", series were created in opposition to market forces and in response to making art accessible to all.
As a teacher Beuys touched many and continues to do so today. Studying at the Kunstakademie Düsseldorf in 1947, Beuys was appointed professor of monumental sculpture at the Akademie in 1961 but was dismissed in 1972 after accepting students who had been previously rejected.
Major works include How to Explain Pictures to a Dead Hare (1965), I Like America and America Likes Me (1974), 7000 Oak Trees (1982). Joseph Beuys's work is held in collections worldwide including the Art Institute of Chicago, Museum of Modern Art, New York, The Tate, London; Hamburger Bahnhof, Berlin, and the Kunstmuseum Basel.
COMPASSION WEEK BALLARAT
21 Oct to 27 Oct 2019
Coinciding with 'The Revolution is Us', 'Compassionate Ballarat' presents a week of events celebrating compassion as part of a global movement, supported by Federation University Australia, Regional Arts Victoria and the City of Ballarat.
www.compassionateballarat.com.au/whats-on
A CONCERT FOR COMPASSION
Sun 27 Oct @t 6.30pm
Loreto College, Performing Arts Centre, Ballarat, Vic.
Bookings www.eventbrite.com $45/$25
To conclude the week of events, an internationally acclaimed choral work Stari Most, conducted by composer Richard Chew, Director Arts Academy, School of Arts, Federation University Australia, will be performed in 'A Concert for Compassion'. The concert features Melbourne-based guest artist Lior, soprano Sharon Turley, baritone Joshua Rowe and the Inscape Chamber Orchestra.
NB: The Post Office Gallery will be open Sun 27 Oct 12-5pm for 'Compassion Week Ballarat'
Image: La rivoluzione siamo Noi (The Revolution is Us), 1972 © Copyright: Edition Staeck, Heidelberg