GUIRGUIS NEW ART PRIZE (GNAP) 2019
SAT 30 MAR - SUN 2 JUN 2019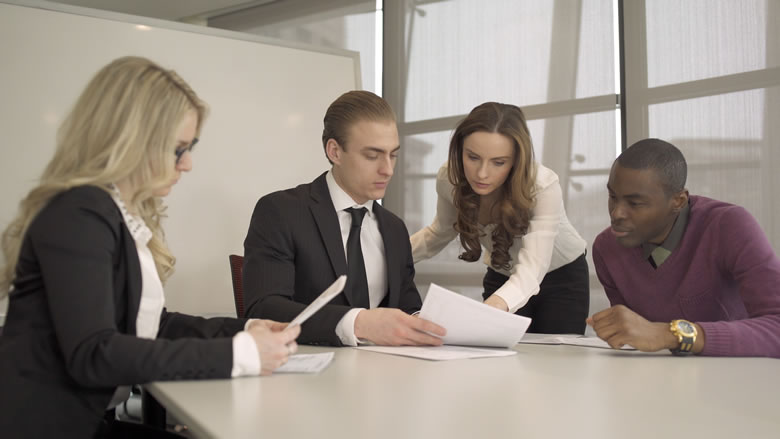 The prestigious $20,000 Guirguis New Art Prize (GNAP) was awarded to Melbourne-based artist Laresa Kosloff for her work, La Perruque, 2018 in front of a capacity crowd at the formal exhibition opening at the Art Gallery of Ballarat on Friday 5 April.
'La Perruque', a French term meaning 'wearing the wig' was created using commercial stock footage shot for corporate advertising and available online to build a fictional tale about an office worker secretly trying to write a novel during work hours.
GNAP19 judge, Melissa Keys and curator, Buxton Contemporary, Melbourne said, "the short film reflects Laresa Kosloff's sensitivity, humour and intelligence. In her work Kosloff creates a narrative in which an office worker is secretly writing an absurd multi-dimensional novel, in which his colleagues are the inspiration for his characters, including a time-travelling con artist who invests other people's money in future markets with prior knowledge of the outcomes," she said
Now in its fourth iteration, GNAP19 promises to inspire and surprise audiences with a bold mix and unique snapshot of Australian art created by artists selected from the Northern Territory, Queensland, Australian Capital Territory, New South Wales, Victoria and Tasmania and includes;
Benjamin Armstrong (VIC), Amanda Davies (TAS), Janet Fieldhouse (QLD), Caroline Garcia (NSW), Marie Hagerty (ACT), Matt Hinkley (VIC), Naomi Hobson (QLD), Laresa Kosloff (VIC), Grace Lillian Lee (QLD), Shirley Macnamara (QLD), Karen Mills (NT), Claudia Moodoonuthi (QLD), Raquel Ormella (ACT) , Nicola Smith (NSW), Neridah Stockley (NT), Tricky Walsh (TAS). Read more about the artists.
Reflecting a myriad of historical and contemporary influences, artists explore ideas ranging from Australian cultural and social history, self-portraiture, identity and transformation, to theories surrounding the fourth dimension expressed through diverse media including sculpture, video, painting, textiles, printmaking, ceramics and installation.
GNAP19 is presented at FedUni's School of Arts Post Office Gallery and the Art Gallery of Ballarat. The Art Gallery of Ballarat is just five minutes down the road on Lydiard Street, around the corner from the Post Office Gallery's entrance on Sturt Street, Ballarat.
Open 10am to 5pm daily
Free entry.
Administered by Federation University Australia, the Guirguis New Art Prize (GNAP) is generously sponsored by local surgeon and philanthropist, Mr Mark Guirguis, presented in partnership with the Art Gallery of Ballarat.
GNAP19 ARTIST TALKS
SAT 13 APR @ 2PM (ART GALLERY OF BALLARAT) LARESA KOSLOFF - WINNER GNAP19
Laresa Kosloff makes performative videos, Super 8 films, hand drawn animations, sculpture, installations and live performance works. Laresa's slick, seductive video La Perruque, meaning 'the wig', humorously explores the aesthetics of corporate culture and the ethics of doing the wrong thing at work, alongside themes of skulduggery, duplicity and creative diversion.
Laresa Kosloff talks about her winning video work La Perruque. (audio) (transcript in Word)
SAT 4 MAY @ 2PM (POST OFFICE GALLERY) BENJAMIN ARMSTRONG
Benjamin Armstrong's work examines a perspective on indigenous and colonial history in Invisible Stories: Port Essington fragments - a series of linocut prints and unique unprinted cut linoleum blocks relating to Australian author Mark McKenna's book From the Edge: Australia's Lost Histories, 2016, about Port Essington, located in West Arnhem Land, that analyses the early C19 British explorers and how they tried, and failed, to establish a settlement there.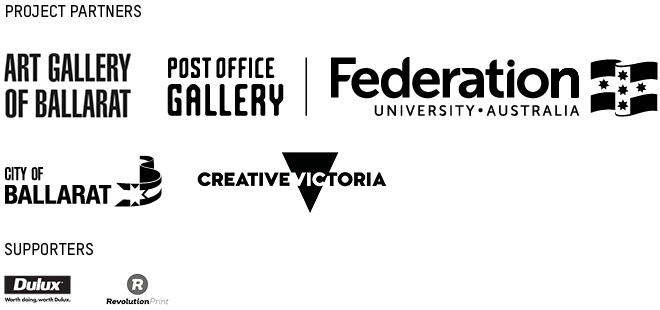 Image: <em>La Perruque<, 2018 (video still) 4K video Duration: 4 min Voice actors: Damian Walshe-Howling and Soula Alexander Courtesy the artist and Sutton Gallery, Melbourne