REVAMP: 50s, 60s & 70s REVISITED: CELEBRATING FEDUNI'S BALLARAT ART SCHOOLS
SAT 25 NOV 2017 - SAT 27 JAN 2018
Recognised as the oldest continuous art school in Australia, from its beginnings as the School of Mines, Ballarat (SMB) and the establishment of the Ballarat Technical Art School in 1907, Federation University Australia (FedUni)'s Arts Academy endures despite many organisational, social and political changes.
Acknowledging the extraordinary achievements of FedUni's Visual Arts alumni who studied at one of our former Ballarat Art Schools, REVAMP is a special opportunity to celebrate 48 visual artists who graduated during the period 1955 to 1979, some of whom have gained national and international recognition.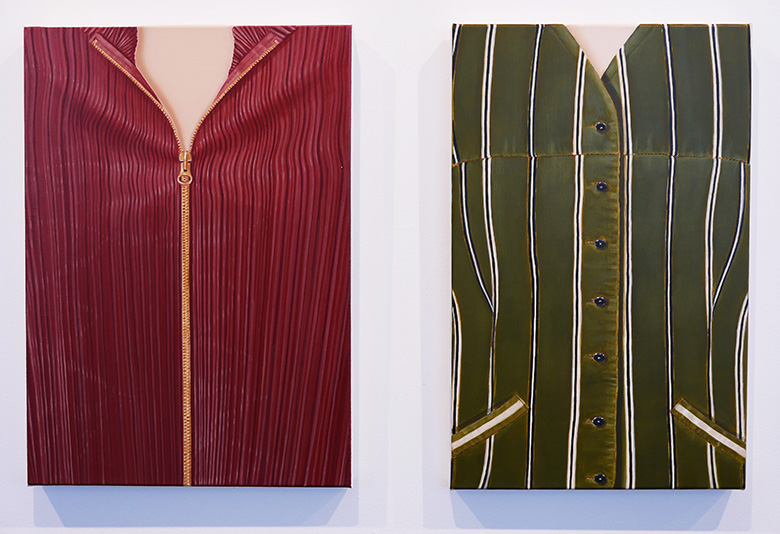 Jan Murray, Pleated Coat (Issey), 2014, oil on linen, H56 x W41cm and Olive Vest (Theodore), 2016, oil on linen, H56 x W41cm
Artists include Trevor BARNETT, Liz BLIZZARD, Dennis BRYANS. Gary BUNN, Alec Raymond CIMERA, Betty COLLIER, Ernie COLLINS, Jon CRAWLEY, John CRUMP, Laurence CUMMIN, Merrian DENNIS, Graeme DRENDEL, Steve DREW, John DUNKLEY-SMITH, Kenneth FELSTEAD, Noel FLOOD, Neville FRENCH, Elaine HABY, Raymond HEARN, Alister HEIGHWAY, Norman HOFMAIER, Debra JOHNSTON, Wesley LANCASTER, Kerrie LEISHMAN, Maxwell MCLEOD, Madeleine MCCRISTAL, Milivoj MICICH, Barb MILES, Carol MURPHY, Jan MURRAY, Jeffery MURRELL, Michael NICHOLS, Paddy O'SULLIVAN, Birgit PANKE, Alison PARKINSON, Peter PILVEN, Ron QUICK, Valerie RESTARICK, Ewen ROSS, Peter SANDERS, Barry SINGLETON, Jan STICKLAND, Trevor Francis TAGLIABUE, Jan TULLOCH, Nola A WALLIS, Noel WATTS, Louise WOODMANSEY and XERSA.
This exhibition not only celebrates our alumni's success but also recognises the many former FedUni teachers in the Visual Arts - their teaching styles, skills and philosophies instrumental in shaping and inspiring active creative minds.
View the video of the opening night. (video 6m 29s)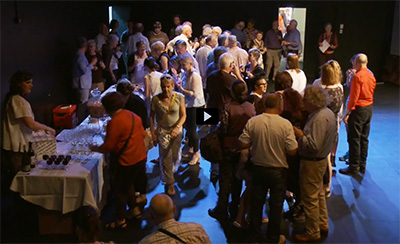 ---