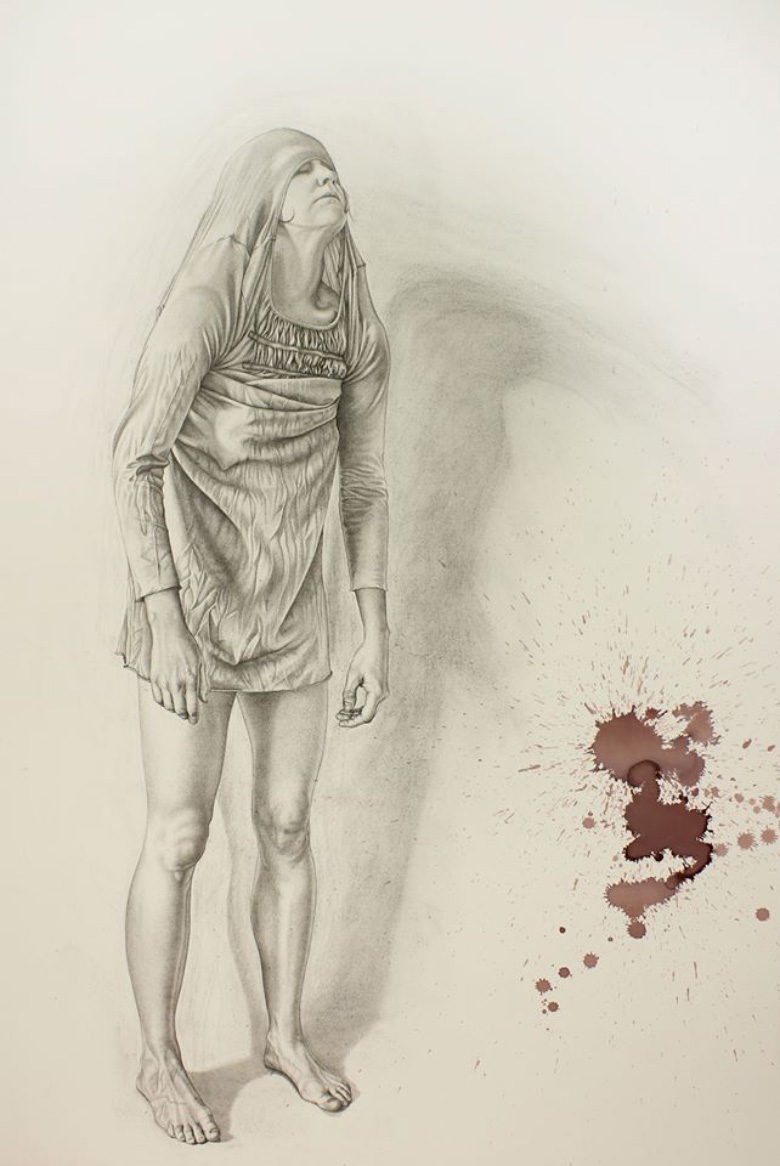 Ballarat Arts Foundation Eureka Art Award 2016
Wed 23 Nov – Sat 24 Dec 2016
Local Ballarat artist Kim Anderson, was announced as the winner of the 2016 $2,500 Eureka Art Award, by Anthony Camm, Director, Ararat Regional Art Gallery at the exhibition opening on Thu 24 Nov 2016.
Kim Anderson was also awarded the 2016 Peoples Choice Award!!! Congratulations Kim!!
Kim Anderson's sublime realistic drawing, Fighting Inertia, 2016 depicts the artist in an angst-ridden pose, bent over, her clothing stretched over the top of her head, contrasting with a random red wine splash, heightening the intensity of the pose and the work.
At the opening, guest speaker, Dr Lisa Anderson, Adjunct Professor, Arts Academy, Federation University Australia, in her remarks, referenced the significance of local artists and their work and the importance of their recognition to the cultural growth of Ballarat.

Established in 2000, through the initiative and generosity of Ballarat South Rotary Club, with ongoing support from the local community, the Ballarat Arts Foundation has continued to assist and encourage the aspirations of local, emerging, contemporary artists who have lived, worked or studied in the regional city of Ballarat.

Now as a biennial acquisitive award, the Foundation provides a unique opportunity for alumni visual artists, to exhibit alongside their peers in an important exhibition and receive the prestigious Ballarat Art Foundation's $2,500 Eureka Art Award, with exhibitors also able to attract the $500 People's Choice Award.

Through granting awards to a broad range of talented artists in a wide variety of disciplines in the visual and performing arts, the Foundation continues to enable local contemporary artists to develop and advance their careers locally, nationally and internationally.
Image: Kim Anderson, Fighting Inertia, 2016, Copic pen, charcoal and wine on paper. Winner: Ballarat Arts Foundation Eureka Art Award 2016 Collection: Ballarat Arts Foundation