From the Bower: Patterns of Collecting
Dr Carole Wilson; Dr Loris Button; Deborah Klein; Louise Saxton
Australia is home to at least seven different types of bower-birds, so the concept of a bower provides a powerful symbolic focus for this exhibition. A bower may be described as an enclosed space, a 'sanctuary', or a space in the natural world in which objects are gathered. It has a connection to the garden - to plants, birds and insects, and in medieval times, the bower referred to a woman's private space.
Aspects of these meanings can be found, to greater or lesser extents, in the work of visual artists Loris Button, Deborah Klein, Louise Saxton and Carole Wilson, gathered together in From the Bower: Patterns of Collecting. The artists have much in common, including the vital connection of their studio practices to both the garden and domestic environments, their love of gleaning and a shared association with regional Victoria.
Perhaps the strongest link between these four, however, is their personal collections, each a singular wunderkammer that in the main is housed in their studio spaces, and which stimulates and directs their imagery. The collections range from curiosities, natural history specimens, memorabilia, discarded books and china, domestic textiles, carpet and linoleum, and old tools of trade. In some cases, selected objects from the collections are destined to become the basis for the artwork itself, most notably discarded domestic needlework in the femmages of Louise Saxton and the maps and atlas pages in the cut and layered paper works of Carole Wilson. Wooden pattern blocks collected by Loris Button are sources of aesthetic pleasure, but have also proved to be invaluable in the production of her prints. Other items, including a diminutive plan cabinet discovered by Deborah Klein in a Melbourne op shop, are incorporated into the work as the foundation for an entirely new collection of miniature watercolours.
A degree of commonality in the collected objects in each of the artist's studios is apparent. There tend to be some inherited objects from family members, usually a parent or grandparent and occasionally objects from their childhood, in particular dolls or toys. Australiana and kitchenalia in all its broadest forms is represented in each collection as well, from wooden doily covers to ceramics and old biscuit tins. Haberdashery paraphernalia in the form of buttons, cottons, dress patterns and sewing tins is another common element. Additionally, all the artists have treasured objects which have been collected whilst on international artists' residencies, ranging from a well-worn Parisian snow dome to a set of 1920s Italian tour guide books.
Each of the artists connects with or interrogates their collection in myriad ways, at both a subtle level and more literally. For some of them, the material and objects collected from the very fabric of their art, whilst for others it is a source of their inspiration and imagery. The artists source their objects from opportunity shops, junk shops, garage sales and markets, both at home and while travelling. Andre Breton said of flea markets "…I go there often, searching for objects that can be found nowhere else, old fashioned, broken, useless..." [1] We can also add; objects that are disused, discarded and even disinherited. Opportunity shops and flea markets are in a way a kind of 'bower' where objects are gathered, and which, reflect the lives of many other people.
For most artists, the privacy of the studio is sacrosanct. Comparatively few people will ever witness first hand where artists "get their ideas from" and the process involved in making the work. This exhibition exhibits key items from the respective studio collections of the four artists, in juxtaposition with artworks that emphasise the connection between the two. The accompanying installation highlights the artists' contrasting and common influences, interests, methodologies and iconography.
[1] Plant, M, "Shopping for the Marvelous: Life of the City of Surrealism" in Surrealism: Revolution by Night, Canberra: National Gallery of Australia, 1993.
Exhibitions
Article
Art Monthly Australasia, Issue 296 (Mar 2017)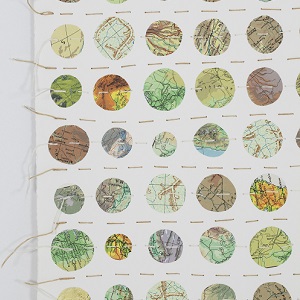 Image: Field Notes Woodland 2, 2015 (detail), hand cut and stitched maps on paper, 100x45cm
From: Exhibition, From the Bower - Dr Carole Wilson