Two Friends Productions
Two Friends Productions is a professional museum theatre company based in Melbourne, created by 2009 acting graduates Jade Thompson and Amanda Bermand. The company now receives commissions for museum works across Australia, following their founders' success in the Sovereign Hill project. Since formation, Two Friends Productions has delighted thousands of children while working with The State Library of Victoria, Bonegilla Migrant Experience, Narmbool Discovery Camps, The National Wool Museum, Urban Camp, Cultural Infusion, many schools, as well as recurring seasons at Sovereign Hill, The National Sports Museum, Albury Library Museum and La Mama Courthouse.
Jade Thompson (pictured below right) received performance training at the Arts Academy, and further developed her comedic and physical skills through roles such as Dot in Murder on the Ballarat Train and Trains in The Devil is an Ass. She graduated just after devising a physical theatre piece titled Boundaries which explored the mental restrictions we put on ourselves. Along with her work at Two Friends Productions, Jade also performed in Cosi and A Midsummer Night's Dream in 2010, produced a 2012 production of The Two Gentlemen of Verona in which she also played Julia, developed and performed in The Beauty and the Beast for the 2014 Melbourne Fringe Festival, and performed and helped produce and direct Noël Coward's Semi-Monde in 2015 with Seven Actors. Jade is an experienced musician, and writes the music used by Two Friends Productions, and occasionally writes with her brother for TomTom Recordings.
Amanda Bermand (pictured below left) has extensive experience in both the theatre and children's entertainment industry. She began her theatre career studying a Bachelor of Arts (Acting) at the Arts Academy, where she played many exciting roles and wrote and directed several short plays. During the university break of 2007–08, Amanda travelled to India, where she taught drama and directed plays in underprivileged schools. It was here that Amanda developed her love of working with and performing to children. After completing her degree, Amanda pursued further training in physical theatre and moved to London, where she spent two years studying creative theatre and performance at the London International School of Performing Arts to develop her comedic, physical theatre, and clowning skills. Amanda has worked with a variety of independent theatre and film companies and has had four years' experience as a children's entertainer for parties and special events. She has written 17 plays for Two Friends Productions.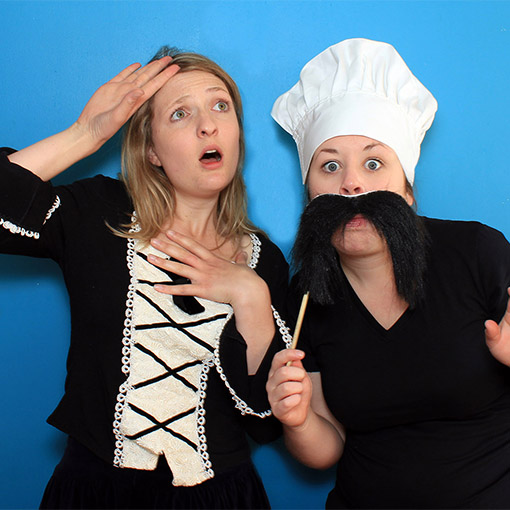 Image: Graeme Thomson