Getting there
Berwick Campus is situated in Melbourne's south-eastern suburbs, approximately 40 kilometres from the city centre. Public transport is accessible with the Berwick Railway Station within walking distance to the campus. The Pakenham train departs on a 20 min schedule from Southern Cross Station and 7 local bus routes stop at the Berwick station.
By train
East of Melbourne (Gippsland)
East of Melbourne, patrons board the Traralgon V/Line train. Unfortunately V/Line doesn't stop at the Berwick Railway Station but you can disembark at the Pakenham Railway Station and board the Pakenham Metro train to the Berwick Railway Station. It's only a 500 metre walk to the Berwick Campus along the dedicated walking path.
Melbourne – Gippsland V/Line train Timetable
Pakenham – Berwick Metro train Line
West of Melbourne (Ballarat/Geelong/Bendigo)
West of Melbourne, patrons take various V/Line services to Southern Cross Station. At Southern Cross Station, progress to platform 12 and board the Pakenham Metro train to Pakenham (runs every 20 minutes). Disembark at the Berwick Railway Station. There is a 500 metre dedicated walking path from the station to Berwick Campus.
Pakenham – Berwick Metro train Line
By bus
There are seven bus routes that stop by the Berwick Railway Station:
Myki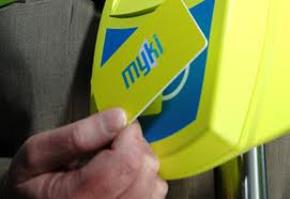 Myki is Victoria's ticketing system for train, tram and bus services throughout the state. Myki is a smart card that uses prepaid credit to pay for your fare. A blank myki costs $6 and can be purchased from newsagents and railway stations. Topping up a myki can be done online through Public Transport Victoria website or bus drivers can load up to $20 cash into the myki.
Once the card has credit you simply swipe the myki sensor when boarding and departing all trains, trams and buses.
Public transport concession cards
Some students are eligible for a 50% discount on all public transport in Victoria and to receive a concession you must purchase a VPT concession card. Students who do not have a VPT card and request a concession fare can be fined by patrolling transport officers. A Federation student ID card does not entitle you to a concession fare.
VPT cards cost $9 and students will need to complete the VPT concession form and provide two passport photos. Generally, full-time domestic students are eligible. International students, part-time students, post-graduate students and apprentices are not eligible to a discount.