About my Student Centre (mySC)
What is mySC?
mySC is an online system which allows you to manage your administrative needs whilst studying at Federation University.
What can I do in mySC?
Using mySC you will be able to:
Enrol online
View your grades
Pay your fees
Amend your contact details
Produce confirmation of enrolment
For further information on these and other processes go to How to use my Student Centre (mySC) web page.
How do I log in to mySC?
The link to log in to mySC can be found at the top of the Federation University home webpage under the Student quicklinks.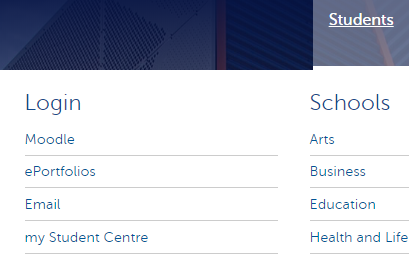 The link can also be found at the end of some website pages (under 'Login to'), from the Current students page, or by typing mysc.federation.edu.au into your browser. You will need your new student ID number (an 8-digit number starting with the number '3') to log into mySC, as this is your user ID.
What is my mySC password?
If you already have a password for accessing FedUni systems then this is the password you will need to use to access mySC. If you don't have a current password, or you have forgotten your password, please contact the Service Desk during business hours.
What can I do in mySC?
Once you are logged into mySC you can check and change your address and phone number details, check your enrolments and view your results. You can also view your account, pay your fees, and print a verification of your enrolment. You will also be able to self-enrol for your programs of study.
Where do I get help to use mySC?