Sara Warren
Position: Learning Designer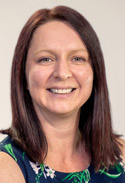 Location:
Office T142 - Building T, Mt Helen Campus
Level 2 (Top Floor), Building U (Albert Coates Complex), Mt Helen Campus
Phone: (03) 5327 6601
Email: s.warren@federation.edu.au
Qualifications:
Master of Education Studies (MEd) at Federation University Australia - 2018
Graduate Certificate of Information Technology (Grad Cert IT) at University of Ballarat - 2004
Bachelor of Arts/Bachelor of Teaching (BA/BTeach) at University of Ballarat - 1998
Biography
Sara Warren has a Masters and Bachelor in Education and brings over twenty years of teaching experience as a generalist teacher (local and international), including curriculum leadership, unit leadership, sessional lecturer, and course coordinator to the role of Learning Designer within the Centre for Teaching Innovation and Quality (CTIQ). Sara employs this experience to research, develop, implement, and evaluate experiences designed to increase academic proficiency, student engagement, and student learning.
She offers advice and support to academic staff involved in teaching within undergraduate and postgraduate programs in various modes, including blended, online, and face-to-face. Liaising across various cohorts, portfolios and leadership within Federation University, Sara assists schools in project development work by supporting the use of appropriate pedagogical and onlinegogical (Warren, 2018) approaches to learning and teaching.
Conference presentations
December 4 2019
AARE Conference 2019 – The silent but deadly academic third space: Illuminations of power/knowledge relationships about the 'difference' between university academic and professional portfolios
Weuffen, Pappaluca & Warren
July 11 2018
WFATE Conference - Transformative Teacher Education in Local and Global Contexts (Conference Presentation: Learning to teach music within online spaces – the pre-service teacher experience)
Memberships and registrations
Victorian Institute of Teaching (VIT) membership and registration
Australian Association for Research in Education (AARE) membership