Professor Peter Gell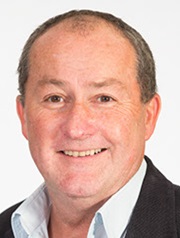 Phone: (03) 5327 6155
Email: p.gell@federation.edu.au
Room: Y145
Position: Professor of Environmental Science
Qualifications
PhD (Monash): The Development and Application of a Diatom Calibration Set for Lake Salinity, Western Victoria, Australia
M. Env. Sci. (Monash): The Fire and Vegetation History of the Upper Delegate River Catchment, East Gippsland, Victoria, and its Implications for Forest Management
B.Sc. (Hons) (Monash): Birds of Victorian Mallee isolates - a biogeographic approach to nature reserve delineation
Diploma of Education
Research Interests
Peter Gell is a paleoecologist who examines change in the condition of wetlands over culturally relevant timelines. He has a particular interest in contributing to a better understanding of natural ecological character under the Ramsar Convention. He specialises in the use of diatoms as indicators of present, and past, river and lake condition, particularly in coastal systems and across Australia's Murray Darling Basin.
An emerging interest is the use of paleoecological approaches to reveal past instances of regimes shifts and tipping points in wetland ecosystems. He also continues his interests in the use of birds as indicators of ecosystem health. Peter is also Adjunct Professor in the School of Postgraduate Studies at Diponegoro University in Semarang, Indonesia
Responsibilities
Member of the Scientific Steering Committee of IGBP PAGES
Recent Publications
Baumgartner, L.J., Gell, P., Thiem, J.D., Finlayson, C.M., Ning, N. (2019). Ten complementary measures to assist with environmental watering programs in the Murray-Darling river system, Australia. River Research & Applications.
Gell, P.A. (2019). Restoring Murray River floodplain wetlands: Does the sediment record inform on watering regime? River Research & Applications.
Gell, P.A. (2019). Watching the Tide Roll Away – Contested interpretations of the nature of the Lower lakes of the Murray Darling Basin. Pacific Conservation Biology. doi.org/10.1071/PC17048
Gell, P.A., Reid, M.A. & Wilby, R.L. (2019) Management pathways for floodplain wetlands of the southern Murray Darling Basin: lessons from history. River Research and Applications.
Reid, A.J., Carlson, A.K., Creed, I.F., Eliason, E.J., Gell, P.A., Johnson, P.T.J., Kidd, K.A., MacCormack, T.J., Olden, J.D., Ormorod, S.J., Smol, J.P., Taylor, W.W., Tockner, K., Vermaire, J.C., Dudgeon, D. & Cooke, S.J. (2019). Emerging threats and persistent conservation challenges for freshwater biodiversity. Biological Reviews.
Dubois, N., Saulnier-Talbot, E., Mills, K., Gell, P., Battarbee, R., Bennion, H., Chawchai, S., Dong, X., Francus, P., Flower, R., Gomes, D.F., Gregory-Eaves, I., Humane, S., Kattel, G., Jenny, J-P., Langdon, P., Massaferro, J., McGowan, S., Mikomägi, A., Nguyen, N., Ratnayake, A.S., Reid, M., Rose, N., Saros, J., Schillereff, D., Tolotti, M. & Valero-Garcés, B. (2018). First human impacts and responses of aquatic systems: A review of palaeolimnological records from around the world. The Anthropocene Review, 5: 28-68.
Gell, P., Perga, M-E., & Finlayson, C.M. (2018) Changes over time. In Hughes J.M.R. (ed). Freshwater Ecology and Conservation: A Handbook of Techniques. Oxford University Press, Oxford.
CM Finlayson, NC Davidson, PA Gell, R Kumar, RJ McInnes (2018). Managing freshwater protected areas in the global landscape. In: Finlayson, C.M., Arthington, A.H. and Pittock, J. (eds), Freshwater Ecosystems in Protected Areas: Conservation and Management. Taylor and Francis, Oxford, UK: 221-241.
Gell, P. (2017). Paleolimnological history of The Coorong: identifying the natural ecological character of a Ramsar wetland in crisis. In Weckstrom, K., Gell, P., Saunders, K & Skilbeck, G. Applications of Paleoenvironmental Techniques in Estuarine Studies, Developments in Paleoenvironmental Research. Springer.
Mariani, M., Beck, K.K., Fletcher, M-S., Gell, P., Saunders, K., Gadd, P. & Chisari, R. (2018) Biogeochemical responses to Holocene hydro-climate fluctuations in the Wilderness World Heritage Area of Tasmania, Australia. Journal of Geophysical Research: Biogeosciences, 123(5): 1610-1624
Soeprobowati, T.R., Suedy, S.W.A., Hadiyanto, Lubis, A. & Gell, P. (2018). Diatom assemblage in the 24 cm upper sediment associated with human activities in Lake Warna Dieng Plateau, Indonesia. Environmental Technology & Innovation, 10, 314-323.
Kattel, G., Gell, P., Zawadzki, A. & Barry, L. (2017). Palaeoecological evidence for sustained change in a shallow Murray River (Australia) floodplain lake: regime shift or press response? Hydrobiologia, 787(1): 269-290.
Cook, P.L.M., Jennings,M., Holland,D.P., Beardall,J., Briles,C., Zawadzki,A., Doan,P., Mills,K. and Gell,P. (2016). Blooms of cyanobacteria in a temperate Australian lagoon system post and prior to European settlement. Biogeosciences, 13, 3677-3686.
Finlayson, C.M., Clarke, S.J., Davidson, N.C. & Gell, P. (2016). Role of palaeoecology in describing the ecological character of wetlands. Marine & Freshwater Research, 67: 687-694.
Gell, P. & Reid, M. (2016). Muddied Waters: the case for mitigating sediment and nutrient flux to optimize restoration response in the Murray-Darling Basin, Australia.. Frontiers in Ecology and Evolution, 4: art # 16.
Capon, S.J.,Lynch, A.J.J., Bond, N., Chessman, B., Davis, J., Davidson, N., Finlayson, M., Gell, P., Hohnberg, D., Humphrey, C., Kingsford, R., Nielsen, D., & Ward, K. Thomson, J. & Mac Nally, R. (2015). Regime shifts, thresholds and multiple stable states in freshwater ecosystems; a critical appraisal of the evidence. Science of the Total Environment. 534: 122-130.
Davis, J.A., O'Grady, A.P., Dale, A., Arthington, A.H., Gell, P., Driver, P., Bond, N., Casanova, M., Finlayson, M., Watts, R., Capon, S., Nagelkerken, I., Tingley, R., Fry, B., Page, T.J., Specht, A., (2015). When trends collide: the challenge of protecting freshwater ecosystems under multiple land use and hydrological intensification scenarios.Science of the Total Environment. 534: 65-78.
Dearing, J.A., Acma, B., Bub, S., Chambers, F., Chen X., Cooper, J., Crook, D., Dong X.H., Dotterweich, M., Edwards, M.E., Foster, T.H., Gaillard, M.-J., Galop, D., Gell, P., Gil, A., Jeffers, E., Jones, R.T., Anupama, K., Langdon, P.G., Marchant, R., Mazier, F., McLean, C.E., Nunes, L.H., Umer, M., Yang X.D., Wang R. & Zhang, K. (2015) Socio-ecological systems in the Anthropocene: The need for integrating social and biophysical records at regional scales. The Anthropocene Review, 2(3): 220-246.
Herbert, E.R., Boon, P., Burgin, A.J., Neubauer, S.C., Franklin, R.B., Ardon, M., Hopfensberger, K.N., Lamers, L.P.M. & Gell, P. (2015) A global perspective on wetland salinization: ecological consequences of a growing threat to freshwater wetlands. Ecosphere, 6(10). doi.org/10.1890/ES14-00534.1.
Bhattacharya, R., Hausmann, S., Hubeny, J.B., Gell, P. & Black, J.L. (2016). Ecological response to hydrological variability and catchment development: insights from a shallow oxbow lake in Lower Mississippi Valley, Arkansas. Science of the Total Environment, 569-570: 1087-1097.
Seddon, A.W.R., Gell, P. , et al., (2014) Looking forward through the past. Identification of fifty priority research questions in paleoecology. Journal of Ecology, 102: 256-267.
Mills, K., Gell, P. & Kershaw, P. 2013. The Recent Victorian Drought and its Impact: Without Precedent? Rural Industries Research and Development Corporation Publication 12/040. 77pp.
Finlayson, M., Davis, J., Gell, P. , Kingsford, R., Parton, K. & Smith, P. (2013). The status of wetlands and the predicted effect of global climate change: the situation in Australia. Aquatic Sciences,75, 73-93.
Mills, K., Gell, P. , Gergis, J., Baker, P., Finlayson, M., Hesse, P., Jones, R., Kershaw, P., Pearson, S., Treble, P., Barr, C., Brookhouse, M., Drysdale, R., McDonald, J., Haberle, S., Reid, M., Thoms, M. & Tibby, J. (2013) Paleoclimate studies and natural-resource management in the Murray-Darling Basin II. Unravelling human impacts and climate variability. Australian Journal of Earth Sciences, 60, 561-571.