Costa, Susanga (Dr)
Email: susanga.costa@federation.edu.au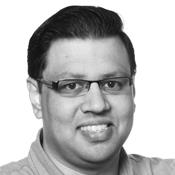 Room: 4N 270
Phone: 5122 8342
Biography
Dr Susanga completed his PhD in Geotechnical Engineering from Monash University (Clayton campus) in 2010. He obtained the BSc. Eng degree from Department of Civil Engineering, University of Peradeniya, Sri Lanka and worked as a lecturer in the same department for a year. Upon completion of his PhD, he worked as a Post Doctoral Researcher in Department of Civil Engineering, Monash University. He joined the School of Applied Sciences and Engineering in January 2011 then under Monash University and continues to work in the School of Engineering and Information Technology at Federation University Australia since January 2014.
Dr Susanga's expertise prevails in environmental geotechnics, unsaturated soil mechanics and fractures in clayey soils with particular interest in desiccation induced shrinkage cracking in clay liners. Current research topics of Dr Susanga include controlling shrinkage cracks in compacted clay, numerical modelling of fracture in clay, effects of climate change on hydro-thermal behaviour of shallow ground and bio geotechnical applications for soft clay. His teaching areas range from geotechnical and geoenvironmental engineering to traffic and transport engineering.
Qualifications
Doctor of Philosophy - Monash University 2010
Bachelor of Science in Engineering - University of Peradeniya, Sri Lanka 2005
Publications
Book chapters
Kodikara, J.K., Costa, W.D.S., 2012, Desiccation cracking in clayey soils: mechanisms and modelling, in Multiphysical Testing of Soils and Shales, eds Prof Dr Lyesse Laloui and Dr Alessio Ferrari, Springer Science + Business Media, Heidelberg Germany, pp. 21-32. View Publication
Journal articles
Costa, W.D.S., Kodikara, J.K., Shannon, B.M., 2013, Salient factors controlling desiccation cracking of clay in laboratory experiments, Geotechnique [P], vol 63, issue 1, I C E Publishing, UK, pp. 18-29.
Costa, W.D.S., Kodikara, J.K., 2012, Evaluation of J integral for clay soils using a new ring test, Geotechnical Testing Journal (E), vol 35, issue 6, A S T M International, USA, pp. 1-9.
Amarasiri, A., Costa, W., Kodikara, J., 2011, Determination of cohesive properties for mode I fracture from compacted clay beams, Canadian Geotechnical Journal [P], vol 48, issue 8, NRC Research Press, Canada, pp. 1163-1173.
Amarasiri, A., Kodikara, J., Costa, S., 2011, Numerical modelling of desiccation cracking, International Journal for Numerical and Analytical Methods in Geomechanics [P], vol 35, issue 1, John Wiley & Sons Ltd, Sussex UK, pp. 82-96.
Conference proceedings
Costa, S. Kodikara, J. and Cherukuvada, M. (2013). Preliminary modelling of climate change effects on ground reactive zone, Climate Adaptation Engineering Symposium for cities and coasts, 29 – 31 October, Melbourne.
Costa, S., Kodikara, J. and Xue, J. (2013). J-integral as a useful fracture parameter for analysis of desiccation cracking in clayey soils, Coupled Phenomena in Environmental Geotechnics: From Theoretical and Experimental Research to Practical Applications - Proceedings of the International Symposium, ISSMGE TC 215 , 1-3 July, Torino, Italy, 377 – 381.
Huxtable, D., Xue, J., Costa, W.D.S., 2012, Investigation of engineering performance of gravels mixed with additives for unsealed pavement stabilization, ANZ 2012 Conference Proceedings 11th Australia - New Zealand Conference on Geomechanics: Ground Engineering in a Changing World, 15 July 2012 to 18 July 2012, Australian Geomechanics Society, Melbourne Vic Australia, pp. 1244-1249. View Publication
Costa, W., Kodikara, J., 2010, Shrinkage development during soil desiccation, Unsaturated Soils, 23 November 2009 to 25 November 2009, Taylor & Francis Group, London, pp. 433-436.
Amarasiri, A.L., Kodikara, J.K., Costa, W.D., 2009, Numerical modelling of laboratory tests on desiccation cracking, Proceedings of the 1st Int. Symp. on Computational Geomechanics (COMGEO I ), 29 April 2009 to 1 May 2009, Int. Centre for Computational Engineering (IC2E), Rhodes Greece, pp. 302-310.
Costa, W.D., Kodikara, J.K., Thusyanthan, N., 2008, Modelling of desiccation crack development in clay soils, Proceedings of the 12th Int. Conf. of the Int. Assoc. for Computer Methods and Advances in Geomechanics (12th IACMAG), 1/10/2008 to 6/10/2008, IACMAG, India, pp. 1099-1107.
Costa, W.D., Kodikara, J.K., Thusyanthan, N., 2008, Study of desiccation cracks evolution using image analysis, Unsaturated Soils: Advances in Geo-Engineering - Proceedings of the First European Conference on Unsaturated Soils (E-UNSAT 2008), 2/07/2008 to 4/07/2008, CRC Press/Balkema, The Netherlands, pp. 159-164.
Costa, W.D., Kodikara, J.K., 2007, Investigation of desiccation cracking using automated digital photography, Common Ground - Proceedings of the 10th Australia New Zealand Conf. on Geomechanics, 21/10/2007 TO 24/10/2007, Carillon Conf. Management Pty Ltd for Australian Geomechanics Society, Australia, pp. 338-343.