Dr Elsa Molina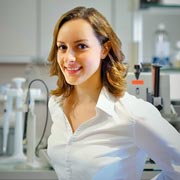 | | |
| --- | --- |
| Position: | Research Associate and Deputy Health & Safety Representative (HSR) |
| Phone: | +61 3 5327 9740 |
| Email: | e.molina@federation.edu.au |
| Room: | Y 111 |
Qualifications
Doctor of Philosophy (PhD)
Molecular Biology and Genetics (2016) - Federation University, Australia

Research project: 'An investigation into the relationships between novel Y chromosome-linked long non-coding RNAs and coronary artery disease' - Charchar Lab, School of Applied & Biomedical Sciences, Federation University, Mount Helen Campus, VIC, Australia
Master's Degree (MSc by Research)
Cellular and Molecular Pathology, Biology, Physiology and Neurophysiology (2012) - University of Poitiers, France

Research project: 'Neurotrophins and neurotrophin receptors involved in the pathophysiology of vascular remodelling in giant cell arteritis (Horton's disease)' - In partnership with the research Cochin Institute, Université Paris Descartes, and EA3842 Clinical Immunology Laboratory, Faculté de Médecine, Limoges, France - Publication
Bachelor's Degree (BSc with Hons)
Biomedical Sciences (2011) - University of Limoges, France

Research project: 'The role of endonuclease G gene in rat genetic cardiac hypertrophy' - Charchar Lab, School of Applied & Biomedical Sciences, Federation University, Mount Helen Campus, VIC, Australia
Certifications
Certificate of Occupational Health & Safety (OH&S), Work Safe Australia - 2015
Certificate of Appreciation for Industry Placement Student Supervision, PICSE Program - 2014
The European Molecular Biology Laboratory (EMBL) Australia PhD Course - 2013
Teaching areas
Biochemistry
Human Genomics
Molecular Cell Biology
Pathophysiology
Professional associations
Royal Society of Victoria, Australia
European Molecular Biology Laboratory (EMBL) Australia, as PhD Student
Member of the Australian Atherosclerosis Society (AAS)
The Heart Foundation, Australia
The French Researchers in Australia Network (FRAN), The Embassy of France in Australia
Environment Victoria, Australia
Awards
One of the fifth winners of the 39th Annual Scientific Meeting of the Australian Atherosclerosis Society Best Abstract Award for Poster Presentation, Melbourne, VIC, Australia (2013)
EMBL Australia PhD Student Travel Grant Award to attend the 15th International EMBL PhD Symposium, EMBL Heidelberg, Germany (2013)
Best Student Poster Award, 2nd prize at Federation University Annual Conference, Mount Helen Campus, VIC, Australia (2013)
Scholarship Award - Postgraduate Research Scholarship (UBPRS) (2012)
Scholarship Award - Special Overseas Student Scholarship (SOSS) (2012)
Research interests
Elsa's PhD research project was focusing on the identification of Y chromosome-linked long non-coding RNAs (lncRNAs), a new class of regulatory RNA molecules, and to elucidate their role which could be the key to understanding the coronary artery disease (CAD) prevalence differences between men and women.
Coronary artery disease (CAD) is one of the leading causes of morbidity and mortality globally. The molecular mechanisms that promote CAD in individuals are not well understood. In this context, studies have demonstrated a positive correlation between increased hepatic free fatty acids (FFAs) in atherosclerosis and CAD. Recently, studies have shown that the human Y chromosome is associated with a greater risk of CAD in men. Moreover, long non-coding RNAs (lncRNAs) have gained focused attention as a new class of regulatory RNA molecules involved in cardiovascular function and associated disease however the molecular mechanisms implicated in disease-processes are not well defined. This study aims to rigorously examine the Y chromosome-linked lncRNAs expression in an atherosclerotic context to define specific transcripts that may help to understand the key differences in CAD between both sexes.
Co-supervised projects
Honours student (1 year) 2015
Research project: Function and involvement of a Y chromosome-linked long non-coding RNA PRKY in coronary artery disease.

3 Bachelor students, FedUni Biomedical Science Research Project 2, (4 months) 2014
Research project: Y Chromosome-linked expression of long non-coding RNAs involved in insulin-resistant HepG2 human hepatocarcinoma cells as model system for atherosclerosis.
Publications
Molina E, Clarence E. M, Ahmady F, Chew G. S, Charchar F. J. Coronary Artery Disease: Why we should consider the Y Chromosome. Heart, Lung & Circulation. 2016 Jan; doi: http://dx.doi.org/10.1016/j.hlc.2015.12.100
Chew G. S, Molina E, Liu H. H, Muhammad T. S. Differential regulation of peroxisome proliferator activated receptor isoforms in the macrophage J774.2 cell line by cytokines. International Journal of Biomedical Research. 2015 Dec; 6:972-981. doi:10.7439/ijbr.v6i12.2669.
Chew G. S, Gawned M, Molina E, Myers, S. A. Quantitative Analysis of Orphan Nuclear Receptors in Insulin-Resistant C2C12 Skeletal Muscle Cells. Journal of Diabetes & Metabolism. 2015 Nov; 6 (11):1-5. doi:10.4172/2155-6156.1000626.
Ly K. H, Régent A, Molina E, Saada S, Sindou P, Le-Jeunne C, Brézin A, Witko-Sarsat V, Labrousse F, Robert P. Y, Bertin P, Bourges J. L, Fauchais A. L, Vidal E, Mouthon L, Jauberteau M. O. Neurotrophins are expressed in giant cell arteritis lesions and may contribute to vascular remodelling. Arthritis Research & Therapy. 2014 Nov; 6:487. doi: 10.1186/s13075-014-0487-z.

See abstract & full-text on ResearchGate