SJIDE news and events
Researchers in the RFA have obtained recent grant funding. Details of their projects can be found on the current research tab.
SJIDE conventicle
Location: Federation University Australia, Mt Helen Campus, Building F, Room 301
Date: Friday 19 July 2019, 9am-4pm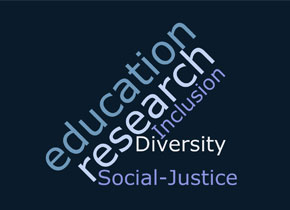 The Social Justice, Inclusion and Diversity in Education (SJIDE) Research Focus Area (RFA) undertakes research and scholarly engagement with social justice in education within the broad themes of equity, diversity, inclusion, opportunity, regionality and wellbeing in formal education as well as non-formal education settings. Educational issues relating to diverse learners and those considered as 'different', e.g. ethnicity, gender, class, culture, sexual identity and orientation, social background, geographical location including international locations, age and dis/ability, are the core of this RFA.
The aims of the Research Sharing Event are to share, promote and show-case the scope, diversity and quality of research taking place in the SJIDE research focus area, to encourage collaborations between SJIDE members and with other researchers, and to build a research community within and outside of the SJIDE RFA.
View and download the program (pdf, 250kb)
Research study: seeking participants
A study into the experiences of teachers with a disability.
Do you have a disability? Are you currently teaching or have taught in the last two years?
You are invited to participate in a study to investigate your experiences in teaching.
If you are interested in finding out more about participating in the research.
Please contact Gerry Skene: gerardskene@students.federation.edu.au or
Associate Professor Jenene Burke: js.burke@federation.edu.au Ph (03) 53279332