Dr Anne Beggs-Sunter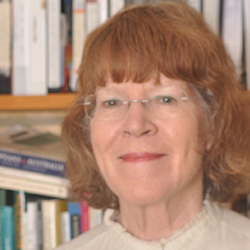 Position: Lecturer
Study area: Humanities and Social Sciences
Location: Mt Helen Campus, H Building, Room H244
Phone: 5327 9728
Email: a.beggs-sunter@federation.edu.au
Qualifications
PhD (Melbourne, 2002)
MA (Deakin) 1990
Dip. Ed. (Melbourne)1976
Dip. Librarianship (UNSW) 1971
BA (Melbourne) 1970
Teaching
HISOC 1003 Australian Colonial History
HISGL 1104 Making Modern Australian History
HISSG 1002 USA in Contemporary World History
HISGL 2109 War and Peace
HISOC 2104 Australia and the Asia Pacific
HISOC 2105 Goldfields Heritage
Biography
After commencing her career at the National Library in Canberra, Anne has worked as an historian and lecturer at FedUni. Her academic interests are in Australian social, cultural and political history. She has a national reputation as an expert on the Eureka Stockade and its interpretation in museum contexts. She is also deeply interested in the history of Ballarat and its heritage conservation.
She has written a number of books, exhibition catalogues and articles for different audiences ranging from specialised academic journals to newspapers.
She is actively involved with a number of cultural institutions, including the Art Gallery of Ballarat, the Gold Museum, the Buninyong Historical Society and serves on a number of City of Ballarat committees.
Areas of expertise
Australian social and cultural history
Eureka Stockade and its impacts
Heritage and urban planning
Australian art history
Research interests
Political movements in Colonial Australia.
Use of Heritage Legislation to conserve historic cities and precincts.
Ballarat's growth as a regional city
Supervision
Australian social and cultural history
History of Ballarat
Publications
Books
Rich Vein of Learning: The Origins of the University of Ballarat. University of Ballarat, 1994

Sunter, Anne Beggs and Livingston, Kevin (eds) The Legacy of Eureka; Past, Present and Future. Ballarat, Australian Studies Centre, University of Ballarat, 1998
Book chapters
'Engendering public debate on Federation; the role of the Australian Natives Association' in Kevin Livingston, Richard Jordan and Gay Sweely (eds), Becoming Australians; The Movement Towards Federation in Ballarat and the Nation, Kent Town, South Australia, Wakefield Press, 2001, pp 42-49.
Entries on 'Peter Lalor' and 'Eureka Stockade' in Ness, Immanuel (ed). The International Encyclopedia of Revolution and Protest, London, Blackwell Publishing, 2009.
'Contesting the flag: the mixed messages of the Eureka flag', Alan Mayne (ed.), Eureka; Reappraising an Australian Legend, Perth, Network Books, 2006, pp. 45-60.
Refereed journal articles
'Something borrowed, something blue', Overland, 160, Spring 2000, pp. 69-7
'Remembering Eureka'; Journal of Australian Studies, No. 70, 2001, pp. 49-56
'An Eminent Victorian; James Oddie and his Contribution to Ballarat', Victorian Historical Journal, V. 72, Nos.1 & 2, September 2001, pp. 105-116.
'Celebrating and Commemorating Nation and Empire in Ballarat', Australasian Victorian Studies Journal, V.7, 2001, pp. 99-109.
'Contested Memories of Eureka: Interpretations of the Eureka Stockade', Labour History, No. 85, November 2003, pp. 29-46.
'The Apotheosis of Peter Lalor: Myth, Meaning and Memory in History', Australian Journal of Irish Studies, V. 4, October 2004, pp. 94-104.
'Eureka: Gathering the Oppressed of All Nations', Journal of Australian Colonial History, Vol. 10, No. 1, 2008, pp. 15-34
Refereed conference proceedings
'Eureka and the transformation of the mining industry in mid-nineteenth century Australia', Transforming Labour: Work, Workers, Struggle and Change, proceedings of the eighth national Labour History conference, Griffith University, Brisbane, 2003, p. 29-33
Eureka's Impact on Victorian Politics; the fight for Democratic Responsible Government in Victoria, 1854-71', Labour Traditions; Papers from the Tenth National Labour History Conference held at the University of Melbourne, 4-6 July 2007, Melbourne, Australian Society for the Study of Labour History, 2007, pp. 15-21.
Associations
Australian Historical Association