Dr Carolyn Johnstone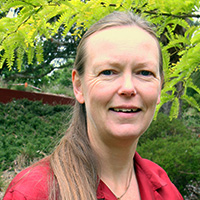 Position: Senior Lecturer
Student Area: Humanities and Social Science
Location: Mt Helen Campus, H Building, Room H245
Phone: 5327 9585
Email: c.johnstone@federation.edu.au
Qualifications
Doctor of Philosophy International Adult Education - University of London - 2014
Master of Education Adult Continuing Education - University of Sheffield - 1997
Postgraduate Diploma Defence Studies - Cranfield University - 1999
Postgraduate Certificate of Education - Jordanhill College - 1987
Master of Arts - University of Glasgow - 1986
Teaching
Program
Biography
Carolyn Johnstone has over 25 years of experience as an education and training specialist with the British Army, which is one of the largest providers of apprenticeships in the UK, achieving over 10K completions annually in the technical, e-skills and general administration sectors.
She originally qualified to teach maths in secondary schools but her personal teaching experience has been in military classrooms and the workplace. When she was responsible for the Army's educational provision across Scotland and the North of England, she co-ordinated a mixture of in-house teaching, contracted lecturers and partnerships with Further Education colleges to deliver the vocational education employers required. Carolyn also worked in defence and strategic policy, supporting Ministers and senior commanders in the UK's Ministry of Defence and as part of the multinational planning staff during deployments to Bosnia, Iraq and Afghanistan.
Her MEd from Sheffield University was in Adult Continuing Education and her PhD on adult education as a stabilising response to conflict drew on interests in both international relations and education. Carolyn was privileged to serve as a member of the independent Commission on Adult Vocational Teaching and Learning (CAVTL) which considered excellence in VET in the UK; CAVTL's final report It's About Work … excellent adult vocational teaching and learning was published in 2013.
Areas of expertise
Adult education
International education and development
Policy development
Research interests
There are pressing challenges in the globalised world including conflict, sustainable development and human security. Carolyn is interested in how international organisations, governments and NGOs work in partnership, using adult education as a policy lever to address these challenges. She also recognises the potential for transformation through education at the individual level. Research interests in this area include: adult education and work-based learning; refugees and vulnerable groups; the professional identities of teachers, as change agents in society.
Supervision
Completions
Adam Baker "Higher Education Massification and Pedagogic Adaptation: An investigation of business teaching excellence in inclusive university environments" Principal supervisor. PhD
Barry Wright "What are the experiences of apprentices and employers involved in fully on-the-job training for apprentices in the building and construction trades?" Associate supervisor. Masters
Current
Matthew Box "Terrorism and Border Security 2001-2015: a fifteen year moral panic in Australia?" Associate supervisor. PhD
Kate Christian "Professional Development for Early-Career Researchers in the Sciences" Principal supervisor. PhD
Colin Marshall "Life on Res: A qualitative study that examines student transition, engagement and development in a regional university residential setting" Principal supervisor. PhD
Lynda Wylie "An examination of the manifestation of Chinese Communist Party nationalism in Hong Kong articulated by C.Y. Leung's administration in response to the 2014 Occupy (or Umbrella) Movement" Associate supervisor. PhD
Publications
Refereed conference proceedings
Cooper, M. & Johnstone, C. (2017) Into the Unknown – Risk taking in intercultural experiences to develop resilience with socially and culturally inclusive teachers. In Proceedings of the 4th Asia Pacific Conference on Advanced Research (APCAR - Mar, 2017), Melbourne, Asia Pacific Institute of Advanced Research (APIAR). ISBN: 978-0-9953980-0-9
Johnstone, C. and Cooper, M.(2016). Supporting pre-service teachers through intercultural experiences: a pathway to socially and culturally inclusive teaching. 10th International Technology, Education and Development Conference (INTED2016) Proceedings, Valencia, Spain. 7-9 March. ISBN: 978-84-608-5617-7 ISSN: 2340-1079 doi: 10.21125/inted.2016.1034
Johnstone, C. (2016). The Australian Army and the National System of Vocational Education and Training (VET) – An historical review of collaboration. Putting VET research to work: collaboration, innovation, prosperity, 19th Annual AVETRA Conference, St Leonards, NSW, 20-22 April.
Johnstone, C. (2017). Adult education in, between and for stronger communities. In G. Kong and E. Boeren (Eds.), Adult Education for Inclusion & Diversity Conference Proceedings 2017 (pp. 240-246). Centre for Research in Education Inclusion & Diversity (CREID), University of Edinburgh, UK.
Other publications
Johnstone, C. (2018). How to develop resilient people in stronger communities. Adult Education and Development: Role and Impact of Adult Education, 85, 28-31.
Conference papers
Johnstone, C. (2016). The Australian Army and the national system of Vocational Education & Training (VET) – working together? From Boom to Bust Australian Historical Association 2016 Conference. Ballarat, 5 – 8 July.
Johnstone, C. (2016). Supporting pre-service teachers through intercultural experiences: internationalisation of teacher education. Education: A Global Perspective, British Educational Research Association Special Interest Group Event. Worcester, UK, 21 – 22 June.
Johnstone, C. (2016). Individual dignity and the role of adult education. Meeting the Challenges of Development and Dignity Conference of the Academic Council on the United Nations System. Fordham University, New York, USA, 16 – 18 June.
Johnstone, C. (2015). Adult education and the journey from trauma to security. Refuge(e)s in the Cities: Post-conflict Trauma, Gendered Violence and Social Inclusion, 26-27 November 2015, Melbourne.
Johnstone, C. (2015). SIHHCLS201A + TAELLN411 + FSKNUM08 = A simple sum for a VET teacher? 2015 National Adult Language, Literacy and Numeracy Assessment Conference, 14-15 May, Adelaide.
Johnstone, C. (2014). Stabilizing Syria: the contribution of adult education. 40th Annual British Educational Research Association Conference, 23-25 September, London, U.K.
Johnstone, C. (2014). Exporting VET as a stabilizing response to conflict. 23rd National Vocational Education and Training Research Conference 'No Frills', 9-11 July, Melbourne.
Atkins, L. and Johnstone, C. (2014) Collaboration in tertiary education: Going further and higher together. Learning and Teaching Conference, 2014: Collaborations. 3-4 July, Ballarat.
Johnstone, C. (2014). Cap2Dev: a fresh concept for adult education in societies that are stabilizing after conflict. Human Security @ 20: Past Experiences and Future Prospects, 25-27 June, Oxford, U.K.
Johnstone, C. (2014). Governing adult education during crises: pointers for policymakers and practitioners. Interrogating Sustainability in Adult Learning Policy - European and Global Perspectives: European Society for Research on the Education of Adults (ESREA) Network on Policy Studies in Adult Education, 18-20 June, Aalborg, Denmark.
Invited talks/keynotes
Johnstone, C. (2014) The UK Experience - Independent Commission on Adult Vocational Teaching and Learning (CAVTL). 2014 AUSTAFE National Conference: The New TAFE, 8-10 October, Sydney.
Grants and commissioned research projects
"The changing relationship between the Australian Army and national systems for vocational education and training" funded by an Army History Research Grant ($5600)
Associations
Asia South Pacific Association for Basic and Adult Education
British Educational Research Association
Australian Vocational Education and Training Research Association
Fellow of the Institute for Learning (UK)