Kimberlea Cooper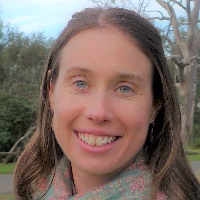 Position: Scholarly Teaching Fellow
Study area: Community and Human Services
Location: Mt Helen Campus, T Building, Room T304
Phone: 5327 6572
Email: kimberlea.cooper@federation.edu.au
Qualifications
Master of Social Work (Qualifying) – RMIT University - 2011
Honours in Psychology – The University of Melbourne – 2006
Bachelor of Arts (Psychology & Criminology) – The University of Melbourne - 2005
Teaching
Program
Bachelor of Community and Human Service
Courses
Models of Case Management (WELSI2101)
Theory and Practice of Groupwork (WELRO2104)
Biography
Kimberlea joined Federation University in 2015, initially teaching at the Gippsland Campus until commencing a Scholarly Teaching Fellow position at Mt Helen in 2016.
Kimberlea is a qualified social worker and has practice experience in casework, advocacy and counselling in non-governmental organisations, community health, and state government departments. Kimberlea has primarily worked with people seeking asylum, refugees, young people, and families.
Prior to her social work career, Kimberlea worked in neuropsychology and developmental research groups at Monash University and the Murdoch Children's Research Institute. Kimberlea is now completing a PhD with the Central Highlands Children and Youth Area Partnership.
Research interests
Kimberlea is currently undertaking doctoral research studies with the Central Highlands Children and Youth Area Partnership Research Collaboration. The Area Partnership aims to improve support for vulnerable children, young people and families in the local region, through bringing together local services, communities, and government.
Kimberlea's doctoral research study is a partnership between Federation University and Child and Family Services (CAFS) in Ballarat. Kimberlea's research is entitled "Supporting children and young people in Out-of-Home Care: A study of the perspectives of foster and kinship carers".
Publications
Refereed journal articles
Wood, A. G., Chen, J., Moran, C., Phan, T., Beare, R., Cooper, K., Litras, S. & Srikanth, V. (2016). Brain Activation during Memory Encoding in Type 2 Diabetes Mellitus: A Discordant Twin Pair Study. Journal of Diabetes Research, Volume 2016, Article ID 3978428
Sanders, L. M., Srikanth, V. K., Blacker, D. J., Jolley, D. J., Cooper, K. A., & Phan, T. G. (2012). Performance of the ABCD2 score for stroke risk post TIA Meta-analysis and probability modeling. Neurology, 79 (10), 971-980.
Glikmann-Johnston, Y., Saling, M. M., Chen, J., Cooper, K. A., Beare, R. J., & Reutens, D. C. (2008). Structural and functional correlates of unilateral mesial temporal lobe spatial memory impairment. Brain, 131 (11), 3006-3018.
Conference presentations
Cooper, K. (2017, July). 'When practice inspires research: The case of trauma-informed care'. Paper presented at the 13th Biennial National Rural Remote Social Work Conference, Albury, NSW.
Cooper, K. (2017, July). 'Designing doctoral research in partnership'. Paper presented at the Federation University Higher Degree by Research Conference, Ballarat, Victoria
Associations
Australia and Association of Social Workers
Centre for Excellence in Child and Family Welfare Inc.