Jimmy Pasakos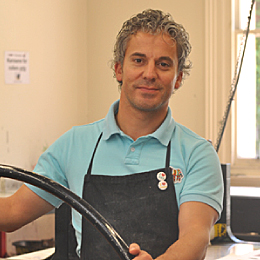 Position:
Lecturer, Visual Arts
Coordinator, Drawing and Digital
Study area: Visual Arts
Location: Camp Street Campus, Post Office Building, Room P217
Phone: 5327 8620
Email: j.pasakos@federation.edu.au
Qualifications
2007 - Certificate IV in Training and Assessment, University of Ballarat
2005 - Graduate Diploma Education, Visual Arts, University of Melbourne
1993 - Masters of Fine Art, Monash University
1989 - Post Graduate Diploma, Fine Art, Printmaking, Monash University
1988 - Bachelor of Arts in Fine Art Printmaking, Chisholm Institute of Technology
Teaching
Programs
Bachelor of Visual Arts
Courses
VAMIN1003 - Drawing 1
VAMIN1012 - Digital Art 1
VAMIN2004 - Digital Art 2
VASAP2003 - Studio Art Practice (Printmaking)
VASAP2004 - Studio Art Practice 2
VASAP3005 - Studio Art Practice 5
VASAP3006 - Studio Art Practice 6
Biography
Pasakos spent much of his childhood exploring the industrial docklands of Melbourne, whose polluted artificial landscape highly influenced his earlier artwork, Pasakos now finds himself living and working in Ballarat, in regional Victoria. He has found inspiration in his new environment, in the natural landscape, history and architecture.
Areas of expertise
Printmaking, Works on Paper, Digital Art
Research interests
Practice based research.
Supervision
2010-2016 Various Honours and Masters students
Exhibitions
Solo exhibitions
2016 'Docks and Wharves' Tacit Contemporary Gallery
2011 'Peeking through a Portal', Warrnambool Art Gallery
2011 'Dark Elements' Pigment Gallery, Melbourne
2004 'Port's Edge' Axia Modern Art Gallery, Melbourne
2002 'A Day at the Harbour', Australian Galleries, Sydney
2000 'Waterways' Australian Galleries, Melbourne
1998 'Docklands and the Waterfront' Australian Galleries, Melbourne
1996 'Docklands and Beyond' Australian Galleries, Melbourne
1994 'Recent Works' Australian Galleries, Melbourne
1993 'Works on Paper - Masters Exhibition' Coventry Gallery, Sydney
1993 Australian Galleries, Melbourne
1990 Malthouse Theatre Gallery, Melbourne
1990 'Works on Paper - Masters Exhibition' Delbridge Gallery, Melbourne
Group exhibitions
2016
'International Contemporary of Print UOG16' Guam, Isla Center of Arts
'Elemental' Visual Arts Center, Bendigo & Light Square, SA 'MONO' Metropolis Gallery, Geelong 'ToP-Thinking of Place' Ballarat
'Between a Rock & a Hard Place' 25 years of Peter Lancaster at QGW
'Editions III' Tacit Gallery, Melbourne
'SCOPE 16' Post Office Gallery, Federation University Australia, Ballarat
'Picture This' Soldiers Hill Arts Collective, Fairbanks Gallery, Ballarat
2015
'Top-Thinking of Place' QLD & NZ
'Editions II 2015' Tacit Gallery, Melb 'Cultural Diversity' Fairbanks Gallery, Ballarat
'Urban Exhibition' Manyung Gallery, Sorrento, Melb
'SCOPE 15' Post Office Gallery, Federation University Australia, Ballarat
2014
Borders & Crossings' Goldfields Printmakers, IMPACT8, &
Art at Wharepuke, Kerikeri, NZ
'Editions I' Tacit Gallery Melb
'Marvellous Melbourne' Grand Prix studios, Melb
'Marvellous Melbourne' The Age - Media House, Melb
'SCOPE 14' Post Office Gallery Ballarat
2013
'Borders & Crossings' Portfolio of Goldfields Printmakers, IMPACT8,
Scotland, Dundee / 'Borders & Crossings' Goldfields Printmakers &
Art Gallery of Ballarat
'SCOPE 13' Post Office Gallery, Ballarat
Various other group exhibitions throughout Australia …
Work held in public collections
2014-1989
Central South University, China
Art Gallery of Ballarat
Tasmanian Art Gallery, Charles Sturt University
Baillieu Collection, Melbourne
Arts Academy Federation University Australia
University of Western Sydney
MAB (Buxtons) Melbourne
New South Wales Art Gallery
Queensland University of Technology Art Collection
CAE, Council of Adult Education, Melbourne
Monash University, Melbourne
Outer Eastern TAFE College, Melbourne
Cited in publications: books
2015 Academic Papers presented at IMPACT9 Hangzhou, China
2013 Catalogue IMPACT8 Goldfields Printmakers
2013 Academic Papers presented at IMPACT8 Scotland Dundee
2011 'Peeking through a Portal' an essay by assistant curator Angie Taylor, Warrnambool Art Gallery
2010 'Outsiders' an essay by Dr Jennifer Jones O'Neill on the 'Outsiders' exhibition Art Gallery of Ballarat 1998 'Australian Printmakers of the 90s' Sasha Grishin, by Craftsman House
1991 'New Art Five' Neville Drury, by Craftsman House
Personal
www.jamespasakos.com
www.goldfieldsprintmakers.com
Associations
Coordinator and Facilitator of the Goldfields Printmakers
Art Gallery of Ballarat Association
Print Council of Australia, committee and member