Jimmy Pasakos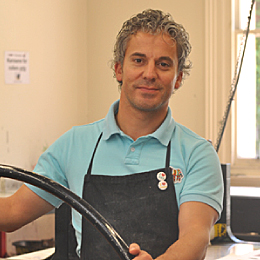 Position: Lecturer
Study area: Visual arts (printmaking, drawing, digital art)
Location: Camp Street Campus, Post Office Building, Room P217
Phone: 5327 8620
Email: j.pasakos@federation.edu.au
Qualifications
2007 - Certificate IV in Training and Assessment, University of Ballarat
2005 - Graduate Diploma Education, Visual Arts, University of Melbourne
1993 - Masters of Fine Art, Monash University
1989 - Post Graduate Diploma, Fine Art, Printmaking, Monash University
1988 - Bachelor of Arts in Fine Art Printmaking, Chisholm Institute of Technology
Teaching
Programs
Bachelor of Visual Arts
Courses
Visual Art Studio Art Practice 1 (VASAP1011)
Drawing 1 (VAMIN1011)
Digital Art 2 (VAMIN2004)
Visual Art Studio Practice 3 (VASAP2003)
Visual Art Studio Practice 4 (VASAP2004)
Visual Art Studio Practice 5 (VASAP3005)
Visual Art Studio Practice 6 (VASAP3006)
Biography
Pasakos grew up in Melbourne and now lives in Ballarat. He studied visual arts at Monash University, Melbourne and many years later completed a postgraduate diploma in teaching.
He has a Bachelor of Visual Arts Degree, a Post Graduate Diploma in Printmaking and a Masters of Fine Art majoring in Printmaking and Drawing.
Since 1991 Pasakos has regularly exhibited in both solo and group exhibitions throughout Australia and internationally. His works are represented in public, private and university collections.
Pasakos is a visual arts lecturer at Federation University Australia teaching printmaking, drawing and digital art. Other university roles throughout the years have been coordination into visual art courses and supervision of honours and masters students.
Through international conferences and connections Pasakos invited various international artists to the Arts Academy as Artist in Residence. The artists not only produced their own work at the Arts Academy but exhibited their works locally, presented their research to honours, masters and PhD students at the Arts Academy and provided valuable insight to their own work to all visual arts students
He is an elected member of the Print Council of Australia, he is the founder of the Goldfields Printmakers now known nationally and internationally through exhibitions, collections and workshops and a member of a local arts community SHAC, Soldiers Hill Arts Collective in Ballarat.
Website:www.jamespasakos.com
Founder of Goldfields Printmakers.http://www.goldfieldsprintmakers.com
Areas of expertise
Pasakos is a practising artist and works predominantly in 2D 'works on paper' and mostly in print. He has participated in various national and international print conferences and exhibitions notably the IMPACT conferences. IMPACT stands for 'International Multi-disciplinary Printmaking, Artists, Concepts and Techniques'.
These conferences are held biannually in Europe and in Asia. Pasakos has attended the last four Monash University Australia, 2015, Scotland Dundee in 2013, Hangzhou China 2015 and Santander Spain in 2018. Apart from Monash University, Pasakos has presented papers on variations of Print at IMPACT, presented portfolios with the Goldfields Printmakers and exhibited in group and solo exhibitions.
He is an elected member of the Print Council of Australia and contributes in board meetings and assists the PCA in various projects and exhibitions. His focus here is to represent the Arts Academy, School of Arts, Federation University Australia.
Research interests
Pasakos' work to date is based on practice-based research that includes the following:
Docklands of Melbourne it's history, present and future
Identity and culture
Printmaking techniques and methods
Works on paper
Mixed media
Digital media
Supervision
2010-2016 Various honours and masters students
Exhibitions
Solo exhibitions
2018 'Journey as Printmaker' IMPACT10, Santander, Spain
2016 'Docks and Wharves' Tacit Contemporary Gallery
2011 'Peeking through a Portal', Warrnambool Art Gallery
2011 'Dark Elements' Pigment Gallery, Melbourne
2004 'Port's Edge' Axia Modern Art Gallery, Melbourne
2002 'A Day at the Harbour', Australian Galleries, Sydney
2000 'Waterways' Australian Galleries, Melbourne
1998 'Docklands and the Waterfront' Australian Galleries, Melbourne
1996 'Docklands and Beyond' Australian Galleries, Melbourne
1994 'Recent Works' Australian Galleries, Melbourne
1993 'Works on Paper - Masters Exhibition' Coventry Gallery, Sydney
1993 Australian Galleries, Melbourne
1990 Malthouse Theatre Gallery, Melbourne
1990 'Works on Paper - Masters Exhibition' Delbridge Gallery, Melbourne
Group exhibitions
1989 - 2018
# IMPACT8 Dundee Scotland (2013)
# IMPACT9 Hangzhou China (2015)
# IMPACT10 Santander Spain (2018)
'Editions,' Tacit Gallery, Melbourne (2015-2019)
'SCOPE,' Post Office Gallery, Ballarat (2015-2019)
'Greek Antipodeans' Steps Gallery, Melbourne (2018)
'International of Print', Guam (2017)
'Xiaoxiang Exhibition of International Printmaking', China (2015)
'Marvellous Melbourne' South Wharf-Hilton, Melbourne (2014-2019)
'Thinking of Place' InkMasters & NZ
IMPACT8, Art Gallery of Ballarat
Keri Keri Art at Wharepuke NZ
'Parallel Prints'-International Exhibition
Portfolio New Zealand & Victoria, Manyung Gallery, TACIT, QG&W
Publications
Journey as a Printmaker' Solo Exhibition – paper at IMPACT10, Santander, Spain (2018)
Open Portfolio, Community and Connections' paper Goldfields Printmakers, at IMPACT10, Santander, Spain (2018)
'Not Born Digital' Open Portfolio – Goldfields Printmakers – paper at IMPACT9, Hangzhou, China (2015)
'Borders and Crossings' Open Portfolio – Goldfields Printmakers – paper at IMPACT8, Dundee, Scotland (2013)
Associations
Print Council of Australia
Art Gallery of Ballarat
National Gallery of Victoria
Goldfields Printmakers