Suborna Barua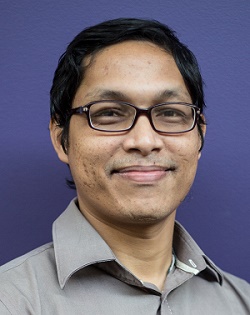 Research
Biography
Suborna Barua is a Sessional Lecturer and PhD candidate in economics and finance at the Federation Business School, Federation University Australia – Gippsland Campus. He is currently lecturing, in a sessional capacity, Federation University's courses on introductory economics and energy economics. He is the recipient of an International Postgraduate Research (IPRS) and Australian Postgraduate Award (APA) combined scholarship. Suborna's PhD research is on the topic of climate change and international trade and investment impacts, under the supervision of Dr Ernesto Valenzuela and Dr Sisira Colombage. He holds since 2012 a full-time faculty position at the University of Dhaka in the Department of International Business. Prior to joining the University of Dhaka, he worked in the capacity of a full-time faculty and researcher in finance and economics for over a six years in different universities and research institutes.
Qualifications
2019 (est. completion) Doctor of Philosophy (PhD) in Finance and Economics, Federation Business School, Federation University Australia.
2007 Master of Business Administration (MBA) in Finance, University of Dhaka, Bangladesh, with Dean's Honour Award for outstanding result.
2005 Bachelor of Business Administration (BBA) in Finance, University of Dhaka, Bangladesh.
Teaching areas
Suborna has over seven years' experience of teaching both postgraduate and undergraduate level courses, for example, international financial management, project management, international investment, foreign exchange and international banking, international financial markets and institutions, financial statement analysis, financial derivatives, and merger and acquisition, microeconomics, macroeconomics, and managerial Economics.
Supervision
Before joining Federation University, Suborna supervised several honours and masters level student research projects at the University of Dhaka. In addition, key external research projects supervised are:
"Trade-off between the Informal Economy of Tobacco and Tobacco Control Policy in Bangladesh", Awarded by: Bangladesh Centre for Communication Programs (BCCP) with Johns Hopkins Bloomberg School of Public Health, Award Value: USD 5000, Duration: 9 Months, Year: 2013.
"Green Banking Policy and Practice in Bangladesh: Current Status and Required Measures", Awarded by: Department of International Business, Award Value: USD 3000, University of Dhaka, Duration: 1 year, Year: 2013.
Professional memberships and associations
Member, American Economic Association (AEA)
Member, American Finance Association (AFA)
Member, Australian Agricultural and Resource Economics Society (AARES)
Member, Financial Services Institute of Australasia (FINSIA)
Member, Financial Planning Association of Australia (FPA)
Additional Information
Quantitative skills
Panel data static and dynamic modelling including Panel VAR, VECM, GMM and ARDL, time series econometrics including VAR, VECM, ARDL and NARDL, Dynamic Stochastic General Equilibrium (DSGE) macroeconomic modelling.
Training expertise
Apart from academic experiences, Suborna has also provided professional training on financial markets, financial management, and research mythology to more ten institutions including financial intermediaries and development organisations. He also a national level trainer on Advanced Financial Analysis and Modelling Using Microsoft Excel, having delivered training to more than 500 participants over four years in Bangladesh.
Financial and management consulting
Suborna has provided financial and marketing consultancy services in different areas including project assessment, feasibility study, project planning and management to more than fifteen corporate houses in Bangladesh. He has also served as a Research Consultant to the Strengthening Parliamentary Oversight (SPO) Project funded by the World Bank and implemented by the Bangladesh National Parliament.
Finance and economic research
Suborna worked as a team member in more than six professional and academic research projects led by the World Bank, United Nations Development Program (UNDP), Plan International, John Hopkins University School of Public Health, University of Dhaka and Department for International Development (DFID) related to finance and banking, microfinance, microinsurance, microenterprise, public health and poverty issues. He also served as chief consultant of research in three stock market intermediaries in Bangladesh for over three years.