Women's Research Network (WReN)
Launched in 2012, the Women's Research Network helps boost female participation and recognition in tertiary research, by providing a supportive network within FedUni. The WReN hosts events and guest speakers throughout the year, and also shares information, articles and support via their group on Moodle and on this website.
For information on how to join, please contact m.merrylees@federation.edu.au or simply join our mailing list here. You can unsubscribe at any time.
End Of Year Survey
Head on over to https://limesurveys.federation.edu.au/index.php/863434?lang=en and let us know your thoughts on WReN in 2018, and your ideas for WReN in 2019!
Published 03/12/2018
Research Careers: Pathways, Challenges, and Opportunities Seminar
The Women's Research Network are pleased to present guest speaker Professor Tanya Fitzgerald.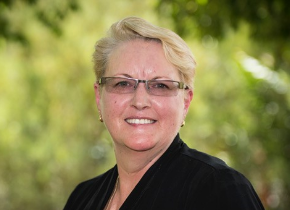 Professor Fitzgerald is a Research Professor in the School of Humanities and Social Sciences at La Trobe University. Her research interests span the history of women's higher education, and higher education policy and leadership. Professor Fitzgerald is currently working on an ARC-funded project: Fostering women leaders through educational exchange 1930-1980.
When:4.00pm-7.30pm, Thursday 13th December 2018
Where: The Vibe Savoy Hotel, 630 Little Collins St, Melbourne
View/download the flyer here (pdf 512kb).
Please register for the event with Emily Hearnshaw on e.hearnshaw@federation.edu.au, providing dietary requirements.
Published 26/09/2018
Building a Research Career
The Women's Research Network enjoyed talks by two inspiring women at their most recent event, entitled "Building a Research Career", held on Thursday 17th May on the Mt Helen campus, and video conferenced to the Churchill campus.

Dr Francine Marques and Associate Professor Jacqueline Wilson spoke about the challenges they had faced in building their research careers, and shared advice and encouragement with the members of WReN.
If you would like more information on becoming involved with WReN, please contact Meg Merrylees on m.merrylees@federation.edu.au, or join the mailing list by clicking the link above.
Published 18/05/2018
WReN Development Day with Guest Speaker
The Women's Research Network recently enjoyed a development day with a presentation by Professor Poole-Warren.
Professor Poole-Warren is the Pro Vice-Chancellor (PVC) Research Training & Dean of Graduate Research and is Professor of Biomedical Engineering at UNSW Sydney. She is committed to fostering gender equity both within UNSW and more widely in her discipline through her formal appointments as the UNSW Gender Champion, Chair of the Athena SWAN Self-Assessment Team and through 10+ years' service on the International Federation of Medical and Biological Engineering Women in BME Committee. Laura has extensive interactions with both the Biomedical Industry and Government through her research and her leadership roles. Laura is an Associate Editor of the journal Biomaterials and an advisory board member of the ARC Centre of Excellence for Climate Systems Science. She is also Secretary for the Biomaterials Science and Engineering College of Fellows and sits on the executive of the Group of Eight Deans of Graduate Research and is immediate past Convenor of the Australian Council of Graduate Research.
Published 24/01/2018
Championing the Success of Women in STEMM
A very interesting read, this report explores the role of women in STEM and the challenges they face, looking at areas of gender inequality, exploring potential causes of this inequality and offering solutions.
It is available to download via this link.
Published 07/11/2017
International Women's Day on March 8th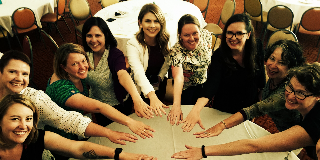 FedUni women gathered together to celebrate successes and listen to inspiring stories at a lunch to celebrate International Women's Day on March 8th 2017.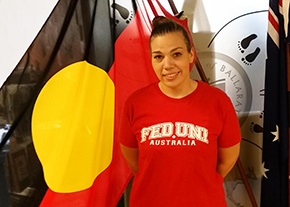 A favourite of the crowd was guest speaker Shanaya Sheridan (right), proud Yorta Yorta and Dja Dja Wurrung woman, and the Aboriginal Education Liaison Officer for Aboriginal and /or Torres Strait Islander Higher Education students, who shared her inspiring story.
WReN member Phuong Doan (right), Research Assistant, Faculty of Science and Technology with the Women's Day pledges, a reminder that every one of us, every day, can make a change in the world.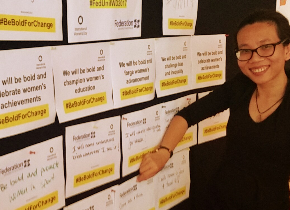 Special thanks go to Sharon Kitt, Katie Donnelly and Rebekah Bailey from Research Services for their role in putting together a fantastic day. Thanks also to Elizabeth Spark and Barbara Webb of Equity and Equal Opportunity.
Published 09/03/2017.
'Be ambitious' a key message from the WReN Christmas event
On Monday 12 December the women of WReN gathered together for the annual end-of-year event. It was a great opportunity to network with other women in research from all of FedUni's campuses.
Professor Geraldine Mackenzie spoke about the current state of research in Australia, as well as the specific challenges faced by women. She encouraged everyone to seek out a mentor, and inspired the room by urging everyone to back themselves and dream big. She was a wonderfully knowledgeable and engaging guest speaker, and her presentation was thoroughly enjoyed by all.
The WReN is now looking forward to a fresh and exciting 2017!
Published 13/12/2016
Dr Lauren Fortington recipient of the 2016 VC Early Career Researcher Award
WReN congratulates Dr Lauren Fortington as recipient of the 2016 Vice-Chancellor's Early Career Researcher Achievement Award. Lauren received this award for her commitment to, and delivery of, research excellence well above the expectations of an early career researcher. Dr Fortington has demonstrated significant research productivity by publishing numerous publications, attracting significant research income, supporting several PhD students and being extensively involved in external committees.
Dr Fortington is pictured proudly holding her award, surrounded by the Research Services team.
Published 23/11/2016
WReN welcomes Professor Geraldine Mackenzie as invited speaker
The WReN were excited to welcome Professor Geraldine Mackenzie, DVC (Research) Southern Cross University, to their meeting and end-of-year dinner in Melbourne, Monday 12 December.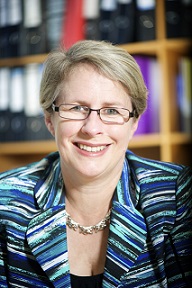 Prof Geraldine Mackenzie was appointed Deputy Vice Chancellor (Research) at Southern Cross University in August 2014, and was previously Pro Vice Chancellor (Research) at Bond University, and Executive Dean, Faculty of Law. Prior to this she was the Foundation Head of the Law School at the University of Southern Queensland, and before that at QUT for many years.
Prof Mackenzie is Deputy Chair of the Universities Australia DVC/PVC Research group, and Co-Chair, Universities Australia Executive Women. In 2015 she was Chair of the Regional Universities Network Research group, and until 2014, Chair, Humanities and Creative Arts panel of the Australian Research Council College of Experts. She is a Fellow of the Australian Academy of Law, the Queensland Academy of Arts and Sciences, and the Australian Institute of Management, as well as a member of the Australian Institute of Company Directors.
Professor Mackenzie is the author or co/author of five books on criminal law and sentencing and has written numerous journal articles and conference papers in her specialist areas. Her research encompasses both the practical aspects of criminal law and the courts, and also theoretical and policy aspects, particularly in relation to sentencing. Her most recent work examines public confidence in the courts.
Published 08/11/2016.
WReN and the Athena Swan Project
Recently the WReN welcomed special guests from Science in Australia Gender Equity (SAGE), who spoke to them about the Athena SWAN program, which aims to improve gender equity in science, technology, engineering, mathematics and medicine.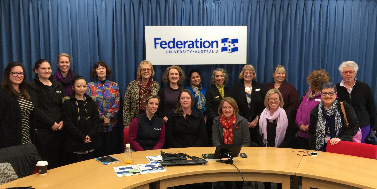 Published 08/11/2016