Gender equity in STEMM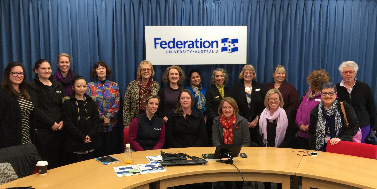 Athena SWAN at FedUni
Federation University Australia joined the Science in Australia Gender Equity (SAGE) pilot of the Athena SWAN Charter in 2016.
SAGE Athena SWAN at FedUni is managed by the Centre for Learning, Innovation and Professional Practice (CLIPP).
The SAGE pilot is a program of activities designed to improve gender equity and diversity in the science, technology, engineering, mathematics and medicine (STEMM) disciplines.
By signing the Athena SWAN Charter, FedUni will address the absence of women at senior levels of academia and management and develop practical ways we can improve inclusion and diversity in recruitment, promotion and career support for women.
FedUni will
collect data on current gender equity standards, policies and practices
develop and implement plans to improve gender equity at all levels of seniority, for casual, full-time and part-time staff as well as for students
submit an application for Bronze Award level accreditation.
Women comprise more than half of science PhD graduates and early career researchers. But just 17% of senior academics in Australian universities and research institutes are women. The loss of women scientists is a significant waste of expertise, talent and investment and negatively impacts our nation's scientific productivity. Science in Australia Gender Equity, 2016.
For further information, please contact m.merrylees@federation.edu.au.