Women's Research Network (WReN)
Launched in 2012, the Women's Research Network helps boost female participation and recognition in tertiary research, by providing a supportive network within FedUni. The WReN hosts events and guest speakers throughout the year, and also shares information, articles and support via their group on Moodle and on this website.
For information on how to join, please contact Emily Hearnshaw on e.hearnshaw@federation.edu.au or simply join our mailing list here. You can unsubscribe at any time.
International Women's Day
When: 2.00pm-3.00pm, Thursday 10 March 2020
Where: Ground floor, Albert Coates Complex
An equal world is an enabled world. Individually we are all responsible for our own thoughts and actions - all day, every day. Collectively each one of us can help create a gender equal world. What does this mean in the university and TAFE context?
We invite you to join us for a panel discussion about #EachForEqual to celebrate International Women's Day.
Afternoon tea will be provided, and all staff are welcome.
Facilitator: Professor Chris Hutchison, Deputy Vice-Chancellor (Research and Innovation)
Panel discussion:
Professor Helen Bartlett, Vice-Chancellor and President
Sara Quon, CEO, Sovereign Hill
Amy Hunter, Director, Research Innovation and Enterprise, Research Services
Katrina Beer, Indigenous Workforce Partner, Human Resources
Events are being held across Ballarat, Berwick and Gippsland campuses. You can find further information in this flyer. (pdf 8.5mb)
RSVP comms@federation.edu.au by lunchtime Friday 6 March, 2020.
Published 04/03/2020
Opportunity to participate in a research project
An invitation to all women academics and professional staff employed by Federation University
You are invited to participate in the research project titled 'The challenges for women working in Australian regional universities' which is being conducted by Anitra Goriss-Hunter and Kate White (Federation University). This project has been approved by the Federation University Human Research Ethics Committee (Approval Number A19-122).
Research Description
This research will explore and compare the challenges for academic and professional women in two regional universities in Australia, Federation University and Charles Sturt University. The proposed study at Federation University will attempt to replicate the research that has already been undertaken by Associate Professor Cate Thomas at Charles Sturt University. The research project aims to investigate whether there are additional equity issues for women employed at regional universities with distributed campuses. It will consider not only the regional geography of the universities but their distanced distributed campuses and the impact these have on the working lives of women. The project will also examine the reasons why academic and professional women stay in their jobs at regional universities.
What this means for participants
If you agree to take part in the project you will be invited to provide written responses to questions provided via email. The questions will be about what factors were barriers to and what factors assisted in establishing and progressing your career at a regional university. Research participants will be any woman who is employed by Federation University as an academic or as professional staff (full-time, part-time, ongoing, fixed contract or sessional). On completion of the survey, Anitra Goriss-Hunter and Kate White may contact you for clarification of your written response. De-identified data will be shared with Associate Professor Cate Thomas at Charles Sturt University and common themes will be identified.
If you would like to participate in the project and/or if you have any questions regarding the project titled The challenges for women working in Australian regional universities please contact the Principal Researcher, Dr Anitra Goriss-Hunter.
EMAIL: a.goriss-hunter@federation.edu.au
Published 10/02/2020
WReN 2019 Research Seminar and lunch
On Thursday 12 December 2019 the Women's Research Network enjoyed an insightful and engaging seminar featuring guest speaker, Associate Professor Cate Thomas.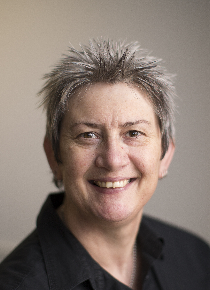 Associate Professor Cate Thomas has a diverse working and academic career in health, human services, leadership and management, holding key positions such as Manager Research to Practice in NSW government. She has worked as a private social policy consultant, delivered keynote addresses, and is now the Associate Dean Academic in the Faculty of Science at Charles Sturt University. Cate is passionate about education, lifelong learning and quality curricula, and with industry and academic experience delivers authentic and evidenced-informed curricula and education to students. Furthermore, she is passionate about evidence-informed practice in the human services field and received a NSW Premier's Silver Award in 2008 for her work in the research to practice area. She also received a Social Media Presence Award in 2016 from the Australian and New Zealand Social Work and Welfare Education and Research (ANZSWWER) for raising awareness and debates around inclusion, advocacy and social justice issues and in 2017 she received the Social Work Educator Award from ANZSWWER.
Edited 10/01/2020.
Grant Writing and Budgeting
Thank you to Tina D'Urbano and Tara Harle for joining us to present on grant writing and budgeting. The session was very informative!
When: 12.00pm-1.00pm, Thursday 5 September 2019
Where: F301 Mt Helen, 2E101 Gippsland and 901_140 Berwick.
Published 05/09/2019.
Advancing your career - Mentors and promotions
Second in the WReN Series for Research Success, we were lucky enough to have not one but two guest speakers!
Dr Margaret Kertesz is a senior research fellow in the Department of Social Work, University of Melbourne. With a background in both historical research and social work, she has worked in out-of-home care services and also spent some years as a researcher in the Child and Family Welfare sector. Over the last 10 years, she has worked closely with government and community sectors on a range of applied research, with an emphasis on guiding and improving practice in the areas of Child Protection, out-of-home care, records creation and domestic and family violence.
Michelle Maier is a postgraduate medical researcher from Federation University. Her area of research has investigated the role of zinc in insulin signalling and muscle atrophy. Ms Maier has also had the opportunity to teach undergraduate students as well as assisting with supervising research groups in biomedical science.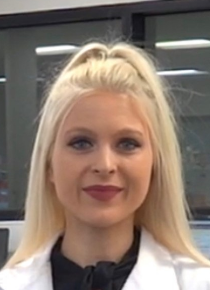 When: 12.00pm-1.00pm, Thursday 16 May 2019
Where: F200 Mt Helen, and videoconferenced to 5N158 Gippsland and 901_140 Berwick.
Published 09/04/2019.
Promote your research with social media
The Women's Research Network Series for Research Success kicked off with guest presenter, Associate Professor Rochelle Eime. A/Prof Eime covered the topic of how best to utilise various different social media platforms to promote your research.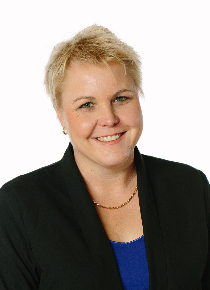 Associate Professor Eime is a behavioural epidemiologist and has over 15 years of research experience specifically relating to the sport and recreation sectors in both public health and sport management.
She is the Director of the Sport and Recreation Spatial program of research which focuses on investigating sport and recreation participation, facilities and health for evidence based decision making.
The key areas are:
Participation levels and trends
Influences on participation
Value of sport: the health benefits of participation
Places to play: the nexus between facilities and participation
Rochelle has strong industry research networks including local, state and national government agencies including the Sport Australia, VicHealth, Sport and Recreation Victoria, and a range of State and National Sporting Organisations.
When: 11.30am-12.30pm, Thursday 28 February 2019
Where: F200 Mt Helen, and videoconferenced to 2W263 Gippsland
View/download the flyer (pdf 496Kb)
Edited 15/03/2019.
WReN in 2019
The Women's Research Network organising committee have been busy planning for 2019!
View or download a flyer for all the exciting events proposed for 2019 (pdf 310kb).
For more information, or if you would like to help organise events, please contact Emily Hearnshaw on e.hearnshaw@federation.edu.au
Published 19/12/2018
Research careers: Pathways, challenges, and opportunities seminar
The Women's Research Network were pleased to present guest speaker Professor Tanya Fitzgerald. Professor Fitzgerald spoke about the unique challenges and opportunities faced by women in research.
Professor Fitzgerald is a Research Professor in the School of Humanities and Social Sciences at La Trobe University. Her research interests span the history of women's higher education, and higher education policy and leadership. Professor Fitzgerald is currently working on an ARC-funded project: Fostering women leaders through educational exchange 1930-1980.
When:4.00pm-7.30pm, Thursday 13th December 2018
Where: The Vibe Savoy Hotel, 630 Little Collins St, Melbourne
View/download the flyer here (pdf 512kb).
Published 19/12/2018
Building a research career
The Women's Research Network enjoyed talks by two inspiring women at their most recent event, entitled "Building a Research Career", held on Thursday 17 May on the Mt Helen Campus, and video conferenced to the Gippsland Campus.

Dr Francine Marques and Associate Professor Jacqueline Wilson spoke about the challenges they had faced in building their research careers, and shared advice and encouragement with the members of WReN.
If you would like more information on becoming involved with WReN, please contact Meg Merrylees on m.merrylees@federation.edu.au, or join the mailing list by clicking the link above.
Published 18/05/2018
WReN Development Day with guest speaker
The Women's Research Network recently enjoyed a development day with a presentation by Professor Poole-Warren.
Professor Poole-Warren is the Pro Vice-Chancellor (PVC) Research Training & Dean of Graduate Research and is Professor of Biomedical Engineering at UNSW Sydney. She is committed to fostering gender equity both within UNSW and more widely in her discipline through her formal appointments as the UNSW Gender Champion, Chair of the Athena SWAN Self-Assessment Team and through 10+ years' service on the International Federation of Medical and Biological Engineering Women in BME Committee. Laura has extensive interactions with both the Biomedical Industry and Government through her research and her leadership roles. Laura is an Associate Editor of the journal Biomaterials and an advisory board member of the ARC Centre of Excellence for Climate Systems Science. She is also Secretary for the Biomaterials Science and Engineering College of Fellows and sits on the executive of the Group of Eight Deans of Graduate Research and is immediate past Convenor of the Australian Council of Graduate Research.
Published 24/01/2018
International Women's Day on March 8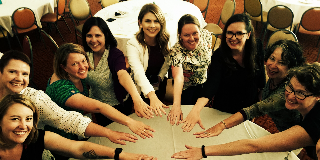 FedUni women gathered together to celebrate successes and listen to inspiring stories at a lunch to celebrate International Women's Day on March 8 2017.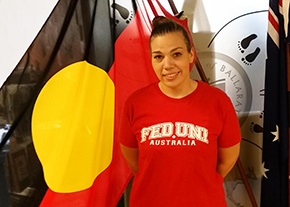 A favourite of the crowd was guest speaker Shanaya Sheridan (right), proud Yorta Yorta and Dja Dja Wurrung woman, and the Aboriginal Education Liaison Officer for Aboriginal and /or Torres Strait Islander Higher Education students, who shared her inspiring story.
WReN member Phuong Doan (right), Research Assistant, Faculty of Science and Technology with the Women's Day pledges, a reminder that every one of us, every day, can make a change in the world.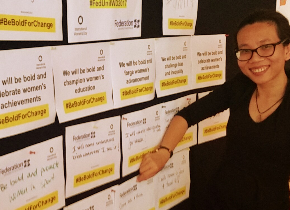 Special thanks go to Sharon Kitt, Katie Donnelly and Rebekah Bailey from Research Services for their role in putting together a fantastic day. Thanks also to Elizabeth Spark and Barbara Webb of Equity and Equal Opportunity.
Published 09/03/2017.
'Be ambitious' a key message from the WReN Christmas event
On Monday 12 December the women of WReN gathered together for the annual end-of-year event. It was a great opportunity to network with other women in research from all of FedUni's campuses.
Professor Geraldine Mackenzie spoke about the current state of research in Australia, as well as the specific challenges faced by women. She encouraged everyone to seek out a mentor, and inspired the room by urging everyone to back themselves and dream big. She was a wonderfully knowledgeable and engaging guest speaker, and her presentation was thoroughly enjoyed by all.
The WReN is now looking forward to a fresh and exciting 2017!
Published 13/12/2016
WReN welcomes Professor Geraldine Mackenzie as invited speaker
The WReN were excited to welcome Professor Geraldine Mackenzie, DVC (Research) Southern Cross University, to their meeting and end-of-year dinner in Melbourne, Monday 12 December.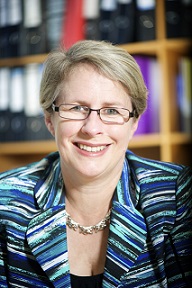 Prof Geraldine Mackenzie was appointed Deputy Vice Chancellor (Research) at Southern Cross University in August 2014, and was previously Pro Vice Chancellor (Research) at Bond University, and Executive Dean, Faculty of Law. Prior to this she was the Foundation Head of the Law School at the University of Southern Queensland, and before that at QUT for many years.
Prof Mackenzie is Deputy Chair of the Universities Australia DVC/PVC Research group, and Co-Chair, Universities Australia Executive Women. In 2015 she was Chair of the Regional Universities Network Research group, and until 2014, Chair, Humanities and Creative Arts panel of the Australian Research Council College of Experts. She is a Fellow of the Australian Academy of Law, the Queensland Academy of Arts and Sciences, and the Australian Institute of Management, as well as a member of the Australian Institute of Company Directors.
Professor Mackenzie is the author or co/author of five books on criminal law and sentencing and has written numerous journal articles and conference papers in her specialist areas. Her research encompasses both the practical aspects of criminal law and the courts, and also theoretical and policy aspects, particularly in relation to sentencing. Her most recent work examines public confidence in the courts.
Published 08/11/2016.