News
Nursing and sports science top the list for university offers at FedUni
Posted: Wednesday 16 January 2019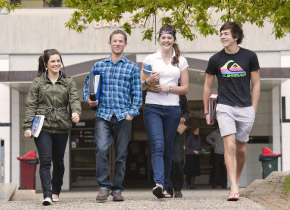 Nursing and sports science have proven popular with prospective students at Federation University Australia, with the Victorian Tertiary Admissions Centre (VTAC) first round offers released for 2019.
"We are delighted to offer places to more than 1,000 students across our campuses," Professor Helen Bartlett, Vice-Chancellor and President, said.
"Nursing has been one of our most popular courses with every place filled, with 205 offers going out through VTAC for entry into first year.
"This shows how strong our reputation is as a university of choice for nursing and healthcare programs. We've invested heavily in updating our facilities and programs, and it's great to see that reflected in such strong demand for our courses," Professor Bartlett said.
Sports science has also proven popular with prospective students.
"The 2019 academic year will see students moving into our renovated Sports Science building, giving students state of the art facilities," Professor Bartlett said.
A total of 494 first round offers have been made at the Ballarat campuses, 398 at Berwick and 252 at Gippsland.
Professor Bartlett said the University was committed to regional students throughout Victoria and beyond.
"Our Ballarat, Berwick, Gippsland and Wimmera Campuses are leaders in their communities for higher education and vocational training.
"Following recent Federal funding, the Berwick Campus also will be able to cater for many more students.
"Our new Brisbane Campus is also proving popular with international students."
Science, engineering, maths and technology programs recorded 137 offers.
Business and Commerce recorded 131 and Education recorded 129 offers.
Other popular programs included humanities (82), criminal justice (77) and visual and performing arts (67).