News
Huge recognition and honours for FedUni graduates
Posted: Wednesday 5 December 2018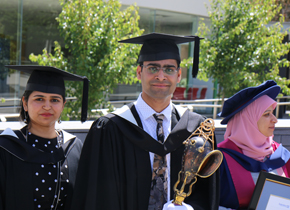 More than 1000 graduating students, an Honorary Doctorate for a distinguished Alumnus and the 25,000th graduate to receive a testamur under the FedUni name are among the highlights of FedUni's December graduation program.
"Graduation ceremonies are such a special time for our graduates as their degrees are conferred and they are recognised for their achievements before an audience of family and friends," Professor Helen Bartlett, Vice-Chancellor and President, said.
Professor Bartlett said FedUni graduates were assured their qualifications would greatly assist them in their professional careers, with the university ranked first in Victoria for graduates' commencing salary and second in the state for full time employment.
Almost 70 per cent of regional students who study at FedUni stay in their region after they graduate.
It is also a significant time for the University, which will present its 25,000th testamur since the university began operating under the Federation University name on 1 January 2014.
This year's University Medallist is Lesley Cooper, who has demonstrated a strong commitment to applying her knowledge and skills to enact real social change.
In her final year of study, Lesley completed a project which mapped the pathways taken by students in the Clemente Program – a program which supports young people to re-engage with education.
Robert Chong AM, the University's 2016 Distinguished Alumnus, will be awarded an Honorary Doctorate for service to the Eastern Melbourne region for more than 28 years in the areas of community leadership, health and welfare.
Mr Chong founded the Chinese Community Social Services Centre, served as the President of the Federation of Chinese Associations (Vic) Incorporated, and founded the Box Hill, Waverley and Knox Chinese Senior Citizens Clubs. He also has served two terms as Mayor of the City of Whitehorse.
Research@FedUni
As part of the three graduation ceremonies, 17 graduates will be inducted as Doctors of Philosophy.
Among the PhD graduates, Usha Kalluri's research explores why breath testing shows promise as an early diagnostic that will improve patient outcomes.
This study used a new way to grow cancer cells that not only replicated the cancer breath profile but identified 10 new chemicals to use for early diagnosis.
Michael Taffe's PhD thesis explores First World War Avenues of Honour. Using Ballarat's avenues as an example. His research examines links with other avenues throughout the Commonwealth and the United States.
Sally Bromley's PhD explores injury and illness protection in Olympic combat sports. Barriers to high quality injury and illness data collection in combat sport must be addressed at the sports organisational level in order to develop effective, evidence-based injury and illness prevention strategies.