News
East Gippsland students gain greater access to FedUni programs
Posted: Tuesday 20 November 2018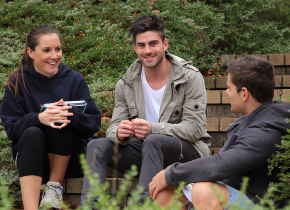 Tertiary students from Eastern Gippsland will soon be able to access Federation University Australia programs in Bairnsdale following the announcement of eight University Study Hubs around the nation.
Announced by the Federal Government, the Bairnsdale Hub is a collaboration between FedUni, Fed Training, East Gippsland Shire and the GLLEN, which will host the Hub.
From next year students will be able to enrol in Federation University Australia degrees and access support services in Bairnsdale.
"The new Bairnsdale Hub provides a very exciting opportunity for East Gippsland students to study close to home," Darren Holland, Deputy Vice-Chancellor (Student Support and Services), said.
"Initial FedUni programs will be offered in business, commerce, early childhood education, information technology, and community and human services," Mr Holland said.
"The University hopes the Hub will be able to expand the range of programs offered and support/outreach services in the future."
Through the Hub, any tertiary student in the region will have access to high speed internet, video conferencing and collaboration technologies. They also will have access to a range of student and learning support services including libraries, counselling and career advice.