News
FedUni welcomes increased Federal funding
Posted: Monday 12 November 2018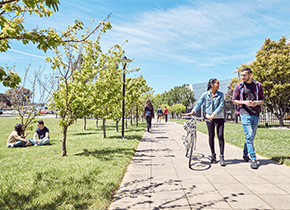 Federation University Australia will be able to offer more student places following the announcement today of a new funding package for regional universities.
"The University will receive extra funding of $40.7 million over four years to support our new Berwick Campus in meeting its growing demand for student places," Professor Helen Bartlett, Vice-Chancellor and President, said.
"The Campus is critical to supporting key economic outcomes for the rapidly developing South-East and is at the heart of the planned Berwick Health and Education Precinct.
"We welcome Minister Dan Tehan's support for regional universities and acknowledgement of the vital role they play in regional Australia, including retaining and attracting young people to the regions," Professor Bartlett said.
"The announcement is a major boost to FedUni and our future growth prospects. The funding commitment will enable the university to enrol more than 2700 new students at the Berwick Campus over the next four years and prepare graduates for areas of high demand including nursing, community and human services, teaching and business."
The $40.7 million for FedUni is the largest amount allocated to any of the five regional universities receiving funding support.
This investment will be welcomed by the local community and its key stakeholders who enthusiastically backed the establishment of FedUni's campus in Berwick at the start of 2017. Jason Wood, Federal Member for La Trobe, was instrumental in advocating for the Berwick Campus and supporting the University.
The Federal Government has also announced nearly 2000 new scholarships for students from regional and remote areas over four years.
In addition, $7.5 million has been allocated to support 16 additional Regional Study Hubs in 22 locations over four years.
A new National Regional, Rural and Remote Higher Education Strategy to be developed by the Federal Government is also designed to increase participation in post-secondary education and will be driven by the establishment of an Expert Regional Education Advisory Group.