News
New support program to benefit Wimmera Bachelor of Nursing students
Posted: Thursday 1 November 2018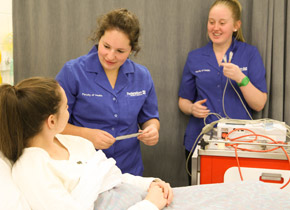 Federation University Australia has responded to concerns about health workforce shortages in the Wimmera and Southern Mallee by offering Bachelor of Nursing students in Western Victoria the opportunity to access more face-to-face classes in Horsham.
Nursing academic staff from Ballarat will hold blocks of intensive learning once a semester at the Wimmera Campus from next year with a particular focus on the practical and clinical elements for first and second year Bachelor of Nursing students.
"The University is delighted that we can now provide these new arrangements to our nursing students in Horsham," Professor Mary Cruickshank, Professor of Nursing, said.
"The University is firmly committed to Western Victoria and its students. Many of our Wimmera Nursing students previously had to travel to Ballarat to attend all blocks of learning throughout the three year program.
"We are very pleased to announce that from February next year we will be bringing the practical and related theory aspects of the program to the first and second year students," Professor Cruickshank said.
"This will greatly reduce the travel for students who are studying remotely and allow them to spend more time with their families.
"There is a very strong need for nursing and healthcare across the Wimmera and the University is working hard to address this challenge."
Dr Blake Peck, Senior Lecturer, said: "The changes we have announced also will significantly help local hospitals and businesses. FedUni will continue to be a strong supporter of Wimmera jobs and industry."
At this stage third year students will still be required to attend the Mt Helen Campus in order to access the very specialised equipment and facilities the University uses to prepare graduates for specialist practice areas.
Ralph Kenyon, Executive Director of the Wimmera Development Association, said he welcomed and supported the University's changes.
"This fresh approach to teaching and assisting nursing students locally will have a positive impact on the students, but also local health services and the wider community in the longer term," Mr Kenyon said.
Catherine Morley, Chief Executive Officer of Wimmera Health Group, also welcomed the announcement.
"We are more than supportive of this move to ensure students have greater access to local opportunities while reducing costs and time away from employment and their families," Ms Morley said.