News
FedUni researcher receives prestigious education award
Posted: Friday 26 October 2018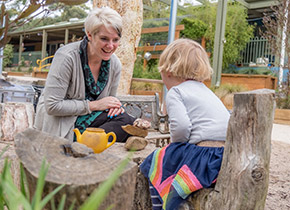 Amy Claughton, a Federation University Australia doctoral student, has been awarded The Inclusive Education Summit Junior Scholar Award.
The award for engaged research and scholarship in Disability Studies is a peer recognition accolade in the field of Inclusive Education.
Ms Claughton, from the School of Education, studied a group of children with disabilities as they engaged in play-based learning at school.
Her thesis shows the children engaging in sophisticated and complex play in ways that research has not previously been able to demonstrate.
Ms Claughton attributes the children's achievements to skilled teaching that supports and extends learning opportunities through play for students with disabilities.
"I was very surprised but also very excited to be selected for the award, given my PhD topic," Ms Claughton said.
"Children, disability and play are often overlooked and it's great to shine a light on this field through this award."
Amy's PhD supervisor, Associate Professor Jenene Burke from the School of Education, presented the award.
"I was honoured to be invited to present this very prestigious award to Amy," Associate Professor Burke said.
"It represents recognition and acknowledgement of Amy's achievements through her research and the growing interest in the body of work that she has been developing over past five years.
"Amy's work is groundbreaking and is likely to positively change how educators work with children with disabilities through play-based learning."
Ms Claughton is in the final stage of her doctoral candidature and plans to submit her dissertation 'Special needs, special play? Re-imaging play for children with disability' early next year.