News
University welcomes high-level Chinese delegation
Posted: Friday 12 October 2018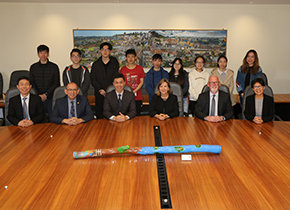 Federation University Australia's longstanding relationship with China's Shenzhen Polytechnic was strengthened this week following the visit of a high-level delegation from the Chinese education provider.
Professor Chen Qiuming, Chairman of Shenzhen Polytechnic, and Professor Zhao Jizheng, Director of International, visited the University's Ballarat campuses and held very productive meetings with Professor Helen Bartlett, Vice-Chancellor and President, and other senior FedUni leaders.
"The partnership with Shenzhen Polytechnic was established in 2011 and FedUni is proud to be associated with China's number one ranked Polytechnic," Professor Bartlett said.
Each year, approximately 100 students have commenced the joint Advanced Diploma in Commerce and since 2014, over 300 of these students have spent one year to 18 months at FedUni in Ballarat completing their Bachelor of Commerce.
"Our institutions have formed a very close partnership and we look forward to many more years of collaboration in delivering quality transnational education."
Professor Talal Yusaf, the University's Pro Vice-Chancellor International, said the University was keen to engage with Shenzhen Polytechnic in identifying Higher Degree by Research opportunities.
"Both institutions will have the opportunity to share knowledge and expertise across many research areas and explore topics of mutual interest," Professor Yusaf said.
"We have also held discussions about creating a Foundation Studies program."
Several students from Shenzhen Polytechnic praised the University this week.
Two friends, Gengbin Wa and Jianwei Wang, are enjoying their time at FedUni enormously.
"I arrived at the University in July and have found it a very welcoming place," Gengbin Ma said.
"The teaching staff have been very helpful to me and they do a lot for international students."
Gengbin and Jianwei, both aged 21, are studying a Bachelor of Commerce degree.
"It is very exciting to travel overseas to study. Ballarat and Australia are very interesting places," Jianwei Wang said.
"I am enjoying my Commerce course and look forward to future studies."
Adele An said the University provided additional course guidance to international students to help them with their studies.
"I think the sports facilities at the University are very good. We often go to the gym to play badminton," she said.