News
FedUni proud to welcome Runway Ballarat
Posted: Wednesday 10 October 2018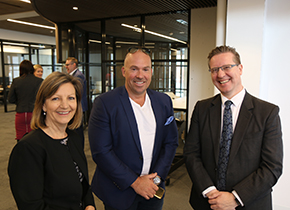 A new digital entrepreneurship enterprise at Federation University Australia's SMB Campus will enable local innovators to attract new investment and create regional jobs.
Situated in the newly renovated Flecknoe Building, the $4.3 million project is funded by the Victorian Government and is a partnership between Runway, the University and the Victorian Government.
The Runway Workshop space will house the full suite of Runway's activities including entrepreneurial programs, innovation programs and significant community engagement activities.
It will also include a Fabrication Laboratory with 3D printers and associated prototyping equipment.
"As one of the largest technology parks to be hosted by an Australian University, Federation University Australia has a strong commitment to digital innovation and entrepreneurship," Professor Helen Bartlett, Vice-Chancellor and President, said.
"We will work closely with Runway Ballarat and the Victorian Government to promote this exciting new venture for our region, and we look forward to our own students and academics participating in the opportunities that the Workshop will generate. Brilliant ideas will now be turned into commercial reality.
"This project is another example of how the Federation University Technology Parks continue to foster connections between industry and the university, supporting job growth and innovation.
"All parties are to be congratulated for their foresight and commitment to this significant new business."