News
FedUni graduate enjoying dream teaching job in Singapore
Posted: Wednesday 3 October 2018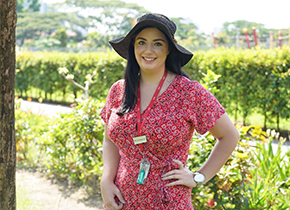 Timika Mathews, an Education graduate from Federation University Australia, insists working at the Canadian International School of Singapore was an opportunity too good to miss.
The School has two campuses in Singapore. Both offer Primary and Secondary education in the International Baccalaureate curriculum from August to June.
With students from over 70 different countries, this type of environment is perfect for FedUni graduates wanting to step out of their comfort zone.
Timika, a Bachelor of Early Education graduate from 2017, could not be happier.
"I was originally offered a full time Casual Relief Teacher position and I was soon allocated my own class for the six month contract," Timika said.
"I have now been offered a full time teacher position and I am loving every minute of it, both at the school and in Singapore."
Timika's amazing opportunity was presented to FedUni graduating education students in 2017 through the University's relationship with Distinguished Alumnus Shane Armstrong (Diploma of Teaching (Primary), 1983).
"Shane has been a generous spokesperson for Federation University Australia for several years," Pam Sutcliffe, Alumni and Foundation Project Officer, said.
"He frequently makes himself available as guest speaker for the Education faculty when he visits Australia.
"He also was awarded the prestigious FedUni International Alumni Award in 2015.
"It's great to be able to work with alumni of our university in developing opportunities like this for our graduates to work in international schools and gain such invaluable experience."
Currently the Chief Executive Officer of the Canadian International School in Singapore, Mr Armstrong was keen to offer our graduates opportunities within his school.
"We look forward to a long work relationship with the school."