News
Secondary students enjoy Science Experience at Berwick
Posted: Tuesday 2 October 2018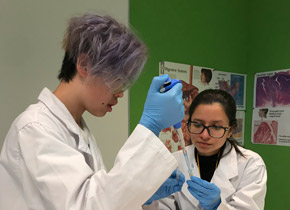 More than 15 Year Nine and Ten students from throughout Victoria have enjoyed a three-day science program at Federation University Australia's Berwick Campus.
"Throughout the program students embarked on a series of fun science activities covering many areas," Associate Professor Jenny Mosse, Deputy Dean, School of Health and Life Sciences, said.
"The students used basic programming skills to create a simple game and to develop an intelligent robot, explored aspects of personality and the characteristics of elite athletes, and looked at how simulations are used to train nursing students before dealing with live patients."
Students then spent a day in the field at Cranbourne, learning how to navigate using GPS in an 'Amazing Race' challenge and learning about threatened and endangered species.
"Students also collected koala poo to take back to the lab for forensic analysis," Associate Professor Mosse said.
"In the lab, students learned how to recover information from samples that animals leave behind – such as fur, feathers and scats – that can be used to protect and manage wildlife populations."
Some students travelled a long way from Euroa, Hamilton, Benalla and metropolitan areas to spend time with like-minded students at the ConocoPhillips Science Experience.
Student comments included: "A great program, I will recommend it to friends and upcoming year levels"; "I enjoyed getting out of my comfort zone and meeting new people"; "Everything was fun".
"I would like to thank our staff from Psychology, IT, Engineering, Nursing, Exercise Science and Life Sciences for helping to deliver such an engaging event," Associate Professor Mosse said.