News
FedUni presented with prestigious Higher Education Award
Posted: Tuesday 5 September 2017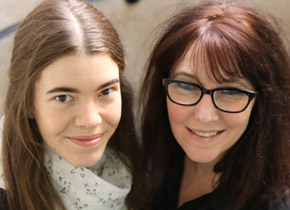 Federation University Australia won the 2017 Australian Financial Review (AFR) award for Higher Education Equity and Opportunity at a ceremony held in Sydney on 29 August.
Associate Professor Jacqui Wilson and Pearl Goodwin-Burns from the Faculty of Education and Arts, in conjunction with La Trobe University, were the recipients of the award. Their innovative program assists people who have spent time in foster care, residential or kinship care (care leavers) to succeed at University.
The annual AFR awards are highly prestigious and a recognition of innovation and achievement in the higher education sector.
La Trobe University's Dr Andrew Harvey, who accepted the award in Sydney this week, said: "Care leavers are a critically underrepresented group in higher education and a priority area for action.
"Up until this project, no one in Australia was focussed on care leavers as an equity group in higher education. Data suggested the transition rate of care leavers into higher education was extremely low, with perhaps as few as one per cent of them accessing it in their lifetimes," Dr Harvey said.
The research has been referenced by the Senate Community Affairs References Committee report into Out of Home Care.
"Since 2015, La Trobe University has worked with FedUni to develop the Higher Education for Care Leavers Strategy," Dr Harvey said.
"The strategy encompasses a number of initiatives from outreach to applications, enrolments and student support including bursaries.
"There are now 122 care leaver undergraduate students at La Trobe University and Federation University Australia," Dr Harvey said.
"The greater number of care leavers enrolling in and re-enrolling at the two institutions is a direct result of the strategy through the provision of outreach to flexible learning schools and support, including financial aid, to current students."
Federation University Australia's Vice-Chancellor, Professor Helen Bartlett is delighted the university has been recognised with La Trobe University for its ongoing commitment to find new ways to support student wellbeing and support.
"Our students are our priority and we continually invest in ways to do all that we can to provide the best support available to ensure all our students succeed and this award recognises that," Professor Bartlett said.
Now in its third year, The AFR Higher Education Awards are an initiative to highlight at a national level the tremendous contribution that the higher education sector makes to Australian prosperity and quality of life.