News
New arts leadership announced at Gippsland Campus
Posted: Thursday 2 March 2017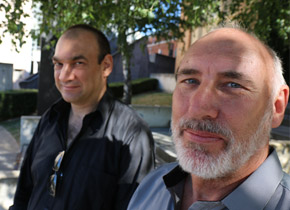 The Gippsland Centre for Art and Design at Federation University Australia's Gippsland Campus is poised to become a creative force in the region with the announcement of two new senior leadership positions.
The new leadership roles follow the recent appointment of renowned artistic leader Bryce Ives as Director of the Arts Academy Ballarat and the Gippsland Centre for Art and Design (GCAD).
Professor John McDonald, Executive Dean of the Faculty of Arts and Education, is delighted to welcome Clive Hutchison (pictured right) and Dean Merlino (left) to the Gippsland Campus as they bring a wealth of experience to revitalise the creative arts program.
"We welcome Clive Hutchison and Dean Merlino to FedUni Gippsland. Clive will oversee and strengthen our Visual Arts program, including the much-loved Switchback Gallery," Professor McDonald said.
Dean is charged with developing a new Bachelor of Applied Creative Arts, an exciting new program for students interested in creative leadership, performing arts, creative writing and visual arts.
"The new Bachelor of Applied Creative Arts will strengthen student engagement with the arts, through practice, and demonstrate how art making can be harnessed to change communities, lives, and inspire new possibilities for economic growth, prosperity and personal fulfilment. We expect to enrol students in 2018."
Bryce Ives, Director of the Arts Academy Ballarat and GCAD, said the new appointments will super-charge the artistic energy and expand the creative works of the GCAD.
"From the community-led redevelopment of the VRI Hall in Traralgon through to the ingenious and beautiful FLOAT project at Lake Tyers Beach, we are pleased to have two artistic leaders engaged and ready to take on the challenge of connecting with the artistic ecology that is thriving across Gippsland," Mr Ives said.
Mr Hutchison's recent appointment includes the role as Head of Department, Design Industries, at Canberra Institute of Technology and of Academic Studies, at CATC Design School.
At CATC he established the Diploma of Photo Imaging at the Melbourne campus and redeveloped the curriculum on all CATC campuses.
As Senior Lecturer and Head of Photo Media at James Cook University, Clive completed a Master of Creative Arts Degree, developed an internationally recognised teaching program, and played a key role in restructuring the School of Creative Arts and its programs.
His work as an educator is also recognised at a national level, with multiple teaching awards including an ALTC (Carrick) citation. The quality of the student experience, innovative student and community engagement strategies, and career realisation for students are his central focus.
Mr Hutchison has long supported international engagement for staff and students developing educational opportunities in Cambodia, Singapore and Scandinavia.
Dean Merlino is an academic who specialises in applied arts practices. For eight years, he was coordinator of the graduate coursework program in Community Cultural Development at the Victorian College of the Arts, University of Melbourne. He is a teacher, researcher and musician.
His areas of research include the role of pedagogy in the future of community practice, sound and cultural structures.
He has published and been engaged internationally to speak on these themes. He also has had advisory roles in numerous industry bodies locally and internationally.
Mr Merlino's pedagogic interests lie at the intersection of practice, theory and embodiment, recognizing that the complex space of community practices requires many different roles and skills to function.
He is currently undertaking a PhD entitled And the Trumpet Shall Sound: The Cosmological Function of Sound and Music.
Media enquiries: Brendan Carroll 0437 234 635