News
Strong interest in nursing at Wimmera Campus
Posted: Thursday 2 March 2017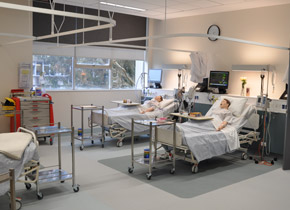 Federation University Australia's Wimmera Campus has recorded extremely strong interest in its Nursing programs for this year.
"We are pleased to confirm we have 31 students ready to commence their Diploma of Nursing this year," Geoff Lord, Head of the Wimmera Campus, said.
"The Campus welcomes our new students and encourages any other Nursing applicants to contact the University as soon as possible."
The University also is pleased to introduce the Certificate in Individual Support at the Wimmera Campus this year.
"The new qualification will be ideal for anyone interested in aged care, community support or disability care," Mr Lord said.
"The Certificate will give students the opportunity to start a career where they can make a real difference by working in aged or disability care.
"If your goal is to continue your studies, this program will give you a pathway with credit into our Diploma of Nursing."
Inquiries about further study at the Wimmera Campus can be directed to 1800 333 864 or info@federation.edu.au