News
Irish sailor-saint inspires FedUni Gippsland artist exhibition
Posted: Thursday 2 March 2017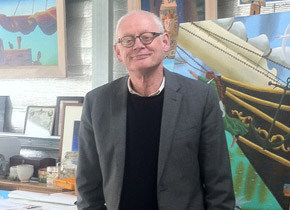 A lifelong love of all things maritime and telling stories rich in visual imagery was the inspiration behind Federation University Australia's Senior Research Fellow, Rodney Forbes' latest exhibition The Sea, The Sea.
Growing up at the mouth of the Yarra River, one of Rodney's first jobs was as a morning paperboy on the Williamstown steam ferry.
Later he trained as an electronics technician at the Williamstown Naval Dockyard, where he worked on board warships and sailed on sea trials. It was during that time his passion for the sea grew.
Now based at Federation University Australia's Gippsland Campus in Churchill, Rodney discovered the mysterious stories of Saint Brendan, a Fifth Century Abbott who set sail across the Atlantic in a leather boat in search of paradise.
Legend has it Saint Brendan discovered the Americas before Christopher Columbus. Rodney says the most recognised image of Saint Brendan careening his boat on the back of an accommodating whale was what inspired his new body of work.
"To me, Brendan's legend explains the British tendency to sail off into the unknown, searching for a 'fair land', a heritage that all Australians, unless they are indigenous, belong to," Rodney said.
Forbes' luminous paintings of Brendan's voyages are full of signs and wonders – friendly whales, monsters, enchantments and magical islands.
Some of the lands Brendan visited on his voyages read uncannily like Australia, with their bright birds, gigantic sheep and lush fruiting trees.
The Sea, The Sea is at Australian Galleries, Derby Street, Collingwood, until 12 March.
Media enquiries: Brendan Carroll 0437 234 635