News
Gippsland Studies Program launch and community consultation
Posted: Monday 27 February 2017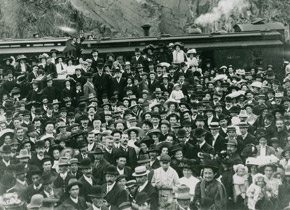 Gippsland residents with a passion for local history and heritage are invited to attend the launch of the Centre of Gippsland Studies 2017 Program at Federation University Australia's Gippsland Campus on Friday, 3 March.
The Centre for Gippsland Studies will also host its first community consultation meeting. This is an opportunity for residents to have a say on the focus of the Centre's work into the future.
Professor Erik Eklund, the University's Director of the Centre for Gippsland Studies, said the community had an opportunity to come forward with fresh ideas to contribute to the success of the centre.
"While it is has had a focus on history and heritage over the years, there has also been a lot of work done at the centre which looks at planning for the future of Gippsland, and which looks at tourism and business studies. So it can also have a much wider ambit if you like," Professor Eklund said.
"We are interested to hear from people that are be keen to see the centre branch out and become a much more ambitious operation."
The Centre has a proud rich history spanning 30 years and over that time has produced research, supported students who were researching the region while building a collection of historic materials.
The Centre's significant collection for the region includes some State Electricity Commission (SEC) of Victoria records, private papers and historic photographs of Gippsland. It also includes the records of the Yallourn Town Advisory Council, an organisation set up in the late 1940s to manage the SEC town of Yallourn.
The Centre for Gippsland Studies 2017 Launch and Community Consultation is on Friday, 3 March, at 5.30pm at FedUni's Gippsland Campus. For more details or to attend click here.