News
Workplace program announced with Castlemaine Goldfields
Posted: Thursday 23 February 2017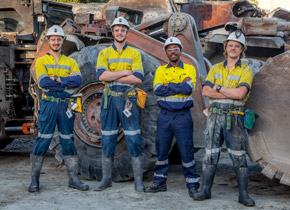 Castlemaine Goldfields and Federation University Australia have joined forces to provide a work placement program for students currently studying Geology, Mining Engineering and Mineral Processing at the University's Faculty of Science and Technology.
The inaugural program provided seven students with access to geology, engineering and metallurgy professionals working within the mining industry at the Ballarat Gold Mine.
Castlemaine Goldfields is the operator of the Ballarat Gold Mine in Mt Clear. It currently mines and processes more than 250,000 tonnes of gold bearing ore at an average grade of between five and six grams per tonne. This produces in excess of 40,000 ounces of gold.
The mine is a major employer in the Ballarat region and contributes millions to the local economy.
"The mine is therefore perfectly situated to partner with the University to provide a unique environment where students from various disciplines can obtain hands on experience," Lecturer Larissa Koroznikova said.
"Students also can observe the application of techniques and knowledge obtained through the completion of their University Degree."
The partnership developed between the mine and the university will assist current and future students in gaining general workplace experience and specific career observation and development in their chosen field of study.
"It is anticipated that the program will increase our students' general understanding and awareness of work place environments," Ms Koroznikova said.
"It also will spur student interest and personal development through their contribution to an operating mine.
"The partnership experience of the first wave of students was extremely positive with students valuing the support, training, guidance and friendship provided by the skilled personnel of the mine."
All parties involved hope that the inaugural program will further build relationships between the Ballarat Gold Mine and the University while providing invaluable experiences that encourage students to pursue careers within the mining industry.
Picture: Mining Engineering students (from left to right) Ryan Marshall, Jarryd Tribe, Samuel Chikohwa and Harrison Knox