News
Richard Dazeley named ICT Educator of the Year
Posted: Tuesday 6 December 2016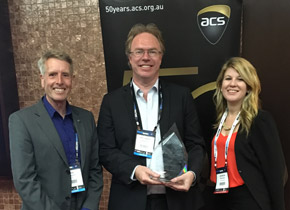 Federation University Australia's Dr Richard Dazeley has been named as the ICT Educator of the Year at the prestigious 2016 ACS Digital Disruptors Awards.
"The award recognises Dr Dazeley's outstanding work in leading our innovative and exciting renewal of the Bachelor of Information Technology," Dr Jason Giri, Head of the School of Engineering and Information Technology, said.
"The award is a fitting acknowledgement of the great work that Richard has done at the University over many years. He is very well-respected at FedUni and is an outstanding educator.
"The University is very proud it will now finish the 2016 year with the best IT programs in the nation as well as the number one ICT educator."
Dr Dazeley is Senior Lecturer of Information Technology at Federation University Australia.
The Australian Computer Society (ACS) Digital Disruptors Awards is the National awards by Australia's premier industry body.
The awards recognise individuals and teams that are the drivers of productivity, innovation and business and are able to deliver real, tangible outcomes.
The award for ICT Educator of the Year is a person who has used creativity and innovation to come up with a solution to a problem. They have taken the time to study, validate and implement this solution demonstrating high levels of stakeholder, risk and change management skills.