News
Ballarat expedition to head to Antarctica
Posted: Wednesday 13 July 2016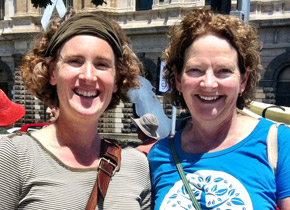 Federation University Australia's Jessica Reeves and fellow Ballarat resident and educator at Earth Ed, Colleen Filippa, have been chosen for a women-only expedition to Antarctica, beating hundreds of other applicants.
The Homeward Bound Expedition is the brainchild of renowned Australian leadership expert Fabian Dattner and Dr Jess Melbourne‐Thomas from the Antarctic Climate and Ecosystems Cooperative Research Centre (ECRC).
"The program has selected 78 female leaders in science from around the world, including Australia, Germany, UK, US, New Zealand and South Africa," Jessica Reeves said.
"There will also be a film crew will be on board the ship to make a documentary of the voyage, along with professional photographers.
"The expedition aims to refine the participants' skills for future collaborations as women working towards a sustainable future.
"It further intends to explore how female leadership across the sciences contributes to solving complex scientific challenges, such as climate change."
Antarctica has been chosen as the backdrop for this voyage of personal and professional discovery.
Regions of Antarctica are currently showing the fastest responses to climate change seen anywhere on the planet, thus highlighting the importance of grafting solutions from significant scientific discussions.
The women are a mixture of polar scientists, atmospheric scientists, penguin experts, university lecturers, engineers, research fellows, writers, biologists and senior science teachers.
The costs for the program are significant and both Colleen and Jess are largely self-funded.
They are holding a movie fundraiser at the Regent Cinemas for the opening night of Absolutely Fabulous – The Movie on Thursday, 11 August.
For tickets please go to https://www.trybooking.com/Embed.aspx?eid=208904 or contact Jess Reeves at j.reeves@federation.edu.au or Colleen Filippa at colleen@earthed.vic.edu.au.
To find out more about the voyage, go to
www.homewardboundprojects.com.au