News
Gippsland Campus records strong student numbers
Posted: Wednesday 24 February 2016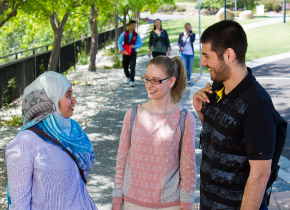 Federation University Australia's Gippsland Campus is delighted to welcome more than 800 new students this year.
The number of new students is about 200 more than for the same time last year.
Strong areas of growth include Nursing, where there has been an increase of about 100 students compared to last year. Other programs with high interest include Education; Health and Physical Education; Outdoor and Environmental Education; and Veterinary and Wildlife Science.
As the campus celebrates Orientation Week, the new students will join other students for the start of the academic year.
"The strong enrolment numbers in Gippsland are a good indication of the high quality of our programs and teaching staff," Professor David Battersby, Vice-Chancellor, said.
"It is very satisfying to see such a large turn-out of new and current students as part of O Week this week.
"The good wishes of myself and the entire University go out to our Gippsland students as they commence their study."
Dr Harry Ballis from the Gippsland Campus said it was not too late to enrol at the University for 2016.
"We encourage any prospective students to contact us as soon as possible," Dr Ballis said.
"The Gippsland Campus has many study options on offer for undergraduate, postgraduate and mature age students."