News
FedUni still number one in Good Universities Guide
Posted: Wednesday 19 August 2015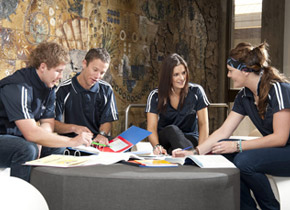 Federation University Australia is celebrating its number one rating for teaching quality in the Good Universities Guide.
In another accolade for the university, FedUni students have voted their lecturers the best in the state for an impressive seven years running.
"As a University, we believe in delivering the highest quality education to our students. We are honoured that our graduates have ranked FedUni number one for teaching quality once again," Professor David Battersby, Vice-Chancellor of Federation University Australia, said.
"Our focus on teaching quality and supporting the success of our students is why FedUni continues to provide a positive experience on campus and strong career outcomes for its graduates.
"I thank FedUni staff for their dedication and commitment to student success. Above all, I thank our students for choosing FedUni," he said.
The University also received the maximum five star rating for social equity and four stars for student-staff ratio.
The Good Universities Guide is considered the nation's definitive tool for determining university choice.
Professor Battersby said the new rankings confirmed FedUni's status as one of Australia's leading regional universities.
"These great results are determined by the students, not the university," Professor Battersby pointed out.
"Our students in Ballarat, Gippsland, the Wimmera and elsewhere are outstanding ambassadors for FedUni and we aim to maintain and build on this great success in the years to come."
Professor David Battersby is available for interviews on Wednesday from 10.00 to 11.00 am and noon to 1.00 pm at the SMB Campus, Ballarat.