News
University academic widens immunology research
Posted: Thursday 17 July 2014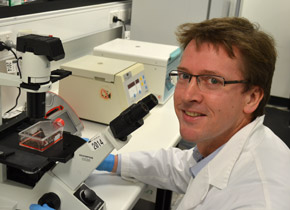 Federation University Australia researcher Associate Professor Stuart Berzins is the lead author of an article accepted for publication in the high profile scientific journal, 'Nature Reviews Immunology'.
The article is indicative of the high quality of medical research conducted at Federation University Australia and the international profile of the research group led by Associate Professor Berzins and his collaborators at the University of Melbourne and the Peter MacCallum Cancer Centre.
"The article discusses the importance of specialised human immune cells in the development of cancer and the prospect of targeting these cells in novel immune-based therapies," Associate Professor Berzins said.
Associate Professor Berzins has also been invited to present his group's research in a plenary session at the 'ChinaTregs Fourth International Conference on Regulatory T Cells and The Subsets and Clinical Application in Human Diseases' to be held on 1 – 4 November in Shanghai, China.
Associate Professor Berzins' research group includes Honours and PhD students from Federation University Australia.
The group is part of the Fiona Elsey Cancer Research Institute (an affiliate organisation of Federation University) that will soon relocate to new laboratories in Ballarat Technology Park Central at FedUni's SMB Campus.