News
Award shows students enjoy the good life on campus
Posted: Friday 15 March 2019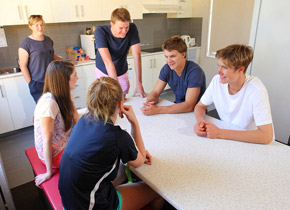 The high quality of accommodation and services for students living on campus at Federation University Australia has been recognised with Director of Campus Life Colin Marshall receiving a prestigious international award.
Mr Marshall was presented the Roelf Visser Global Initiatives award for his outstanding contribution in advancing the campus housing profession and the student experience of living on campus.
The award was presented by the Association of College and University Housing Officers-International (ACUHO-I) and is named after the organisation's first president. Based in the United States of America, it represents more than 17,000 professionals and 1.2 million on-campus students around the world.
Mr Marshall was credited with developing and establishing a number of partnerships, initiatives and programs to improve the experience for students living on-campuses at universities around the world. He was also recognised for his work exploring the impact of globalisation and student mobility globally.
Based in Ballarat, the Federation University Campus Life Director has been an active member of ACUHO-I for more than 10 years and has served on its Executive Board for more than five years, with roles including Globalisation Director and Director for Business Practices and Enhancements.
Quotes attributable to Director of Campus Life Colin Marshall:
"I'm honoured to receive such a prestigious award, and to have had the opportunity to make contributions to advance the campus housing profession and the students we serve globally."
"I am a firm believer that on campus student residential communities are the primary places where the nexus between the curricular and co-curricular experiences for students is most evident, with the work we do at FedUni having been enhanced through my ACUHO-I service and involvement."
"Student engagement, involvement, satisfaction and success is often greater for those who live on campus during their study. The entire Campus Life team is dedicated to achieving this."
Quotes attributable to ACUHO-I Chief Executive Officer Mary DeNiro:
"The profession would be hard-pressed to find anyone who has done more than Colin in terms of growing our affiliations, initiatives and offerings outside the United States."