News
FedUni geology student presented with prestigious award
Posted: Tuesday 27 November 2018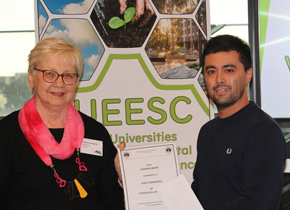 Jose Fernandez, a geology student from Federation University Australia, has been presented with the prestigious Frank Canavan Award of the Geological Society of Australia (Victorian Division).
Presented to the leading second-year geology student of any Victorian university, the Frank Canavan Award has long been recognised as a pre-eminent geoscience award.
Jose's award, based on his results in 2017, was presented at the Victorian Universities Earth and Environmental Sciences Conference at Monash University earlier this month.
"Jose Fernandez has been an outstanding geology student at FedUni and thoroughly deserves this award," Stephen Carey, Lecturer in Geology, said.
"We wish him well as he plans his honours year at FedUni next year. His success in testimony to the solid reputation of geology programs here at the University."
The Frank Canavan Award was established in 1996 by his widow. Frank Canavan was a prominent Victorian geologist very active in promoting geological education.
From of its beginning as the School of Mines Ballarat (SMB) in 1870, FedUni has been a national leader in geoscience and geology programs.