News
FedUni TAFE graduate runner up in Australian Apprentice of the Year Awards
Posted: Wednesday 21 November 2018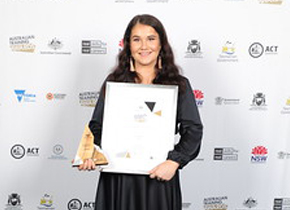 Alyssa Heard, a hospitality graduate from FedUni TAFE, has been announced as Australia's runner up for Commercial Cookery in the Australian Apprentice of the Year Awards.
Alyssa, from Western Victoria, began her hospitality career in waitressing aged 15. She then enrolled in a Certificate III in Commercial Cookery at FedUni.
"The University is very proud of Alyssa and all that she has accomplished," Barry Wright, Executive Director of FedUni TAFE, said.
"Her success is a great credit to her, her teachers, employers and parents and supporters at FedUni.
"She has a natural talent with cooking and hospitality and we wish her all the best in her future career."
Alyssa finished her apprenticeship in December 2017 and is furthering her studies with a Certificate III in Patisserie and will be representing FedUni TAFE in Chile in 2019 as a part of a TAFE exchange program.
Last year Alyssa won the regional title in the 2017 World Skills competition and the 2017 Victorian Apprentice of the Year, a testament to her skill level.
She is now working at Chalambar Golf Club in Ararat.
Alyssa also has been named as a recipient of the Lopez-Lochert Scholarship for Victorian TAFE students.
As part of this important scholarship program, Alyssa will represent the University and Victoria in Chile in January 2019.
Alyssa will study with other Victorian TAFE students as well as local Chilean students at Duoc UC in Santiago in the 'World of Chilean Wine' course.