News
FedUni academic awarded prestigious Selwyn Medal
Posted: Sunday 30 September 2018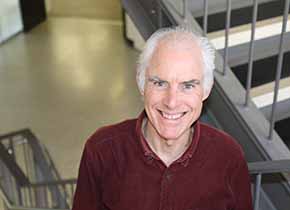 Federation University Australia academic Stephen Carey has been announced as the recipient of the 2018 Selwyn Medal, the premier geology award in Victoria.
The award recognises "significant ongoing or former contributions of high calibre to any field of Victorian geology".
Dr Carey, Lecturer in Geology, teaches palaeontology, sedimentology, stratigraphy, regolith science and fieldwork.
"I am delighted and honoured to be presented with this prestigious award," Dr Carey said.
"I have been involved in geology for all my academic life. To be acknowledged with the Selwyn Medal is very much a career highlight for me.
"My thanks go to the Geological Society of Australia's Victorian Division and my industry colleagues for the award of this Medal."
Professor Leigh Sullivan, Deputy Vice-Chancellor (Research and Innovation), said the award of the Medal to Dr Carey was high recognition of the significance of Dr Carey's contributions to Victorian Geology.
"On behalf of the University, I congratulate Dr Carey for his achievements in geology," Professor Sullivan said.
"He also has been a wise mentor for many of our students over the years."
Dr Carey's research is mainly concerned with the Australian trace fossil record of Pleistocene vertebrates, the development of silcrete in humid regions, and the stratigraphic context of a possible early human site at Moyjil, Victoria.