Work integrated learning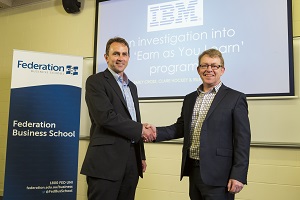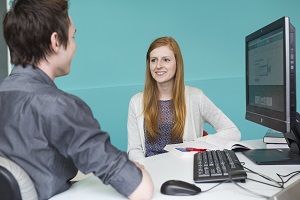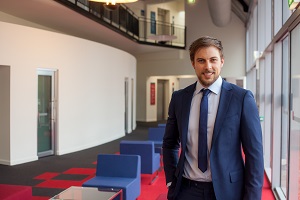 Work Integrated Learning (WIL) is a core component of our undergraduate degrees at Federation Business School. It provides students with the essential links between theory and practice with work-relevant education to ensure our graduates are fully prepared for entry into the workforce.
Students can elect to study any of the WIL options below providing:-
there's room in their study plan
pre-requisites have been met
a class / placement is confirmed, and
the student's selection is approved by the WIL Co-ordinator prior to enrolment occurring.
Students need to familiarise themselves with all expectations and requirements specific to their Program prior to enrolling in a WIL class or going on placement. It is the student's responsibility to apply for and complete 1 course from the WIL suite as it is a mandatory component of our Programs. For an overview of your WIL options and your eligibility, please see the WIL flowchart (pdf, 108kb).
For further information please contact business.wil@federation.edu.au
The options available include:
Class-based courses (12 week duration)
Business Consulting Project
(BUENT3704) 15 credit points
ENACTUS (ENtrepreneurial, ACTion, US) is a global student organisation which brings together business leaders and students whose purpose is to 'Enable Progress through Entrepreneurial Action'.
Industry Based Case Studies
(BUGEN3705) 15 credit points
A real-life case study will be presented to students in class by an external organisation. You will explore some of the key issues of contemporary workplaces, work in groups then present back to the organisation
Placement courses
Duration
Placement details
International Exchange
(BUEXC2501 - 2504)
BUEXC3501 - 3503)
1 or 2 semesters depending on the courses you elect to study
The University's study abroad and exchange programs provide global experience and opportunities for students already enrolled in university to study at a range of overseas institutions in countries such as USA, South Korea, Austria, Denmark, UK, Finland, France, Germany, Lithuania, Netherlands and Sweden.

OS-HELP Loans may assist eligible students who are based in Australia, to undertake some of their studies overseas.

New Colombo Plan
(BUEXC3504) 15 credit points
Students travel overseas in an Academic led group for 2-4 weeks.
The New Colombo Plan is an Australian Government funded initiative to provide students with exposure to the Indo Pacific region by providing internships, short and longer-term overseas study tours.
Industry Experience Project
(BUGEN3700) 15 credit points
110 hours of placement, averaging 9 hours per week.
Students are presented with real-life business projects provided by actual employers and/or community organisations from across a broad range of business disciplines and interests.
Business Internship
(BUGEN3705) 30 credit points
160 hours (2 days a week for 12 weeks
or 13 weeks should an induction be required).
Internships offer students the ability to work within a Host Organisation on multiple tasks, collaborate on projects plus gain valuable work experience and networking opportunities.
Professional Practice 1
(BUGEN3707) 60 credit points
700-800 hours within industry
Bachelor of Cognitive Enterprise (Professional Practice) students.
Students will gain substantial, valuable insights into a contemporary workplace by using new technologies such as AI, automation, IoT, blockchain, and 5G to change business models, reinvent processes, and reimagine the way we all work.
Professional Practice 2
(BUGEN3708) 60 credit points
700-800 hours within industry
Bachelor of Cognitive Enterprise (Professional Practice) students.
Students will expand on learnings in BUGEN3707 by actively participating in a Host Organisations' everyday business activities and upon completion will deliver a practical project related to digital business models.
Industry Based Learning Project (IPP) (BUGEN3750) 30 credit points

400-800 hours within Industry

This program provides students with an opportunity to gain valuable workplace experience in an organisational environment broadly related to their field of academic study while enhancing their knowledge and skills.
Note: Students will be required to submit mandatory pre-placement documentation plus attend a professional interview for all placement opportunities. This does not guarantee that your application will be successful.
Log into InPlace to view current WIL placement opportunities. Students are granted access to InPlace once they enrol in any course in any Federation Business School Program. Log in with your student ID number and Uni password (the password you're already using to log into My Student Centre).
Career Accelerate Program
Career Accelerate Program (CAP) is a free, fully online, self-paced Moodle course that is highly recommended for students considering any form of placement. Topics include resumes, cover letters, improving job interview performance plus developing your personal brand and networking. For more information on the CAP program, visit the CAP webpage or if you have difficulties self-enrolling, please contact the Federation University Careers and Employability team edge@federation.edu.au.
Useful documents