Study modes
With a #1 rating in Student Support*, Federation University offers a range of study options to support our students to ensure they have the perfect balance between life and study.
On campus
With campuses across Victoria in Ballarat, Berwick, Gippsland and Wimmera, you have the opportunity to study on campus at these locations as well as through our partnerships with community centres and education institutes across regional and metro areas in Victoria and interstate. Find out about our campuses.
Full-time study
Full-time study applies to many of the programs at Federation University. As a full-time student you can expect the majority of classes to fall any time between 8:30am and 6:30pm, Monday to Friday. Contact hours per week vary depending on your program.
Part-time study
Part-time study options are available for a wide range of courses. Part-time study generally takes twice the length of time to complete, when compared to the full-time mode for the same course. However this can vary depending on what you're studying or the schedule you have arranged with your faculty.
Off-campus
There are a range of off-campus study options to choose from including: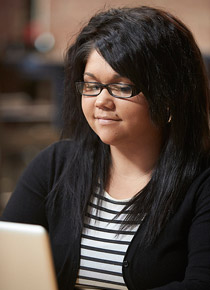 Online learning
Distance learning
Block mode
Flexible delivery
Online learning
Studying with Federation University online allows you to complete exactly the same program as an on-campus student, but with the flexibility of studying anywhere you choose, anywhere around the world – whether that's your home, local library or from your small business.

It's the perfect option if you need to balance your studies with work, family or other commitments.
To have a successful online learning experience you will need to ensure you have the right computer hardware and software. Find out more about minimum IT requirements.
Available programs
View our range of online learning programs
Distance learning
When you study via distance learning with us, we provide you with the learning resources, including workbooks and online reference resources, required to successfully complete your studies. You will have the same access to our expert teaching staff and resources as our on campus students (utilising telephone and online communications), while enjoying the convenience of off campus study.
Flexible delivery
How it works?
Flexible delivery refers to online study that is integrated with on-campus study. Each week of your course may include evening classes, weekend classes, studying one day or night per week, or similar arrangements. Again, this will vary depending on the course you're studying.
How much time will I need?
Online learning usually involves taking two courses of study per semester, which is half the amount of an on-campus student. You can increase or decrease your study load if you choose. There are two, 12-week semesters in a year, with an exam period at the end of each semester. You can generally expect to study between 20-24 hours per week, but this will depend on the type of course you're undertaking.
What support is available?
Your lecturers will guide you through your studies with a course outline and a weekly plan of topics, as well as providing support via online discussion forums. You can also communicate with teaching staff by email, through online chat or by phone.
Importantly, online learning students have access to all the same support services as on-campus students such as the university library, academic skills support, disability liaison services, career advice and more.
Block mode
How does it work?
For higher education programs, block mode refers to online study that is partnered by blocks of on-campus study. TAFE apprentices and trainees may undertake block mode study on campus for specified periods each semester, and complete their training in the workplace. How often you're on campus will depend on your course. For example, it may involve being on campus once per semester for a week at a time.
How does online learning work?
Instead of attending classes in person, your program is delivered online through recorded audio or video lectures, set readings each week, questions posted in a discussion forum and/or an online quiz. You may also have an exam at the end of a course.
In addition to this entirely online study option, courses are also available where you will need to attend weekend classes or scheduled workshops. These study options are called flexible delivery. In other courses, you might have to attend campus for a week or so at a time. These study options are called block mode.
BOLD
The BOLD (Blended, On-Line and Digital) initiative is a key strategic direction to enhance our teaching capabilities and improve the student experience. It will provide opportunities that may not be available in traditional face-to-face teaching and learning formats. These include opportunities for students to choose how and when to learn and to personalise their learning. Advantages of blended or online study also include opportunities for collaboration with fellow students both formally and informally, with or without staff input. The BOLD plan is about student learning in a digital age and ensuring our graduates are equipped to work, live and continue to learn in the twenty-first century.
Partner providers
We have collaborative relationships with partner institutions within Victoria and interstate. These relationships allow external institutions to teach Federation University's sought-after courses at their locations, making on-campus study more accessible. Students graduate with a formal Federation qualification and have access to our support services including careers and employment, and alumni opportunities.
External sites
Some courses are available through external sites. These include traineeships and pathway courses offered at industry centres, community hubs and schools. If we are delivering through an external location, you will find the exact location details on our Course Finder.
Workplace delivery
Workplace delivery may refer to an apprenticeship or traineeship which is done in conjunction with a student's employer. It may also refer to some of our short courses which may be offered to groups in the workplace, such as first aid qualifications. To organise a group training session like this, just contact us directly on 1800 333 864.
Apprentices and trainees may also combine workplace study with on campus study blocks. This may be referred to as 'block mode' study.
Find out more information
To learn more about various study modes at Federation University Australia, contact us on 1800 FED UNI (1800 333 864) or Ask FedUni.
* Good University Guide 2021